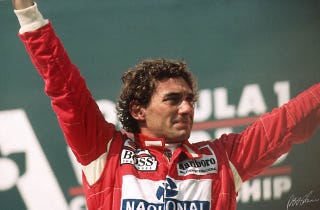 We start with a box, addressed Secret Senna, Oppo
(warning, was so excited I took crap photos with my phone)
I actually tried to open it very carefully without destroying the box, but I gave up...
SO I TORE IT APART, and INSIDE THERE WAS





Another BOX. How did Senna know I was a box collector? But Inside that was!
A SLEEVE! EPIC!
and then inside the sleeve was my gift.
But before the gift, was the card. A card so great, it made me feel both amazing, but slightly disappointed in myself that I didn't do for my Senna.
What was inside the card made my jaw drop.
Once I started reading, I just couldn't stop
It took me a while to wrap round my head
Just as to exactly what the card said:
'Twas the night before Christmas and in the Garage

I was changing some parts on my beat-up old Dodge

Every trick that I tried, though, it wouldn't work right

So I threw up my hands and wrapped up for the night

I filled up my toolbox and closed the light tightly,

Set it down on my desk where my die-cast shown brightly

Frustrated and tired, I set off for bed

In hopes that some resting would freshen my head

When outside the house there arose such a sound

A rumble so fierce that it rattled the ground

I peeked out the window and there, clear as day,

A Marlboro Lotus (Don't worry you're forgiven -Noah) parked in my driveway!

It can't be St. Nick, I knew. That much was clear

Instead of his eight, there were TWELVE cylin-deers

So silent I watched as the driver arose

From out of the cockpit in full racing clothes

He took off his helmet, and in the dim light

His breath clouded silver against the dark night

Still peeking I saw, as my heart pounded fast

He opened my front door and by me he passed!

His hair was all curly, his eyes dark, and starry

His smile was bright like a burning Ferrari

I crouched in the shadows, there, straining to see

The liveried man now approaching the tree

He crouched near the tree, then he quickly arose

Went back through the door, which he silently closed

He fired the engine; with a roar he was gone

Leaving under the tree a box market "Amazon"
I went straight to sleep, then but tried to think though

On the man with the helm striped green, yellow and blue

And I may have imagined, but I heard a faint voice

Merry Christmas from Senna, may all Oppos Rejoice!"

Merry Christmas
Damn
And then inside the box... (drum roll please)
A amazing 5 pound book on the History of the 911. Fantastic. I guess Senna was able to figure out what I liked pretty well. This is an awesome book that i've had my eye on, and can't wait to add it to my collection.
Thank you so much Will. This was amazing gift, and I actually got it on my birthday to make it even sweeter. Without a doubt the best gift I got both for the holidays and my birthday. Thank you so much. Merry Christmas!