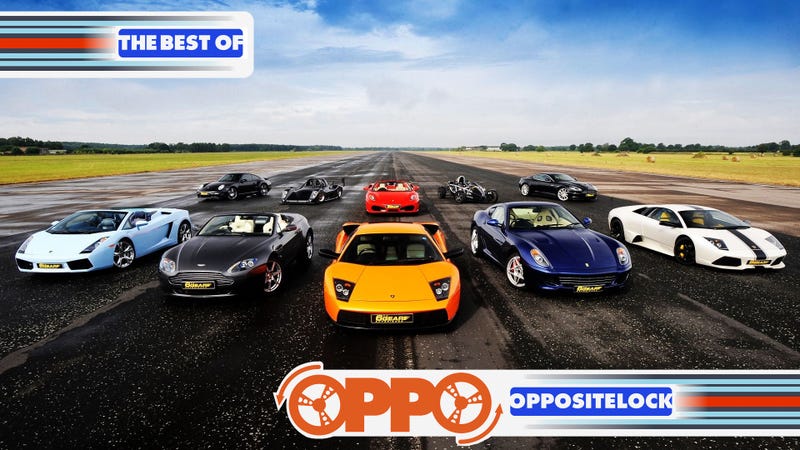 Gathered here are the Oppositelock posts that people put a good deal of effort into writing on Tuesday and Wednesday. It includes another car that time forgot, adventuring in Moab, real life imitating Gran Turismo and more.
Oh boy, have I got a hell of an oddity for this installment. This is like buying a piece of luggage at a thrift store only to discover a secret stash compartment full of blow and cindi lauper tapes wrapped up in some bell bottoms...It just leaves you feeling very confused as to what exactly happened here and what that person's definition of a good time was. That awkward analogy aside, today's piece is on the Bitter SC.
Over the last few years, smartphone adoption has begun to slowly transform itself into something different, something that resembles automotive culture. Brand loyalty, attachment to out of date hardware and software lead by the diminishing relevance of Moore's Law (lest we start adopting quantum computing), and software updates containing mostly user interface changes all contribute to each individual bonding with a particular device, product line, or brand and not wanting to let go.
Let me just say I could do this 5 or 6 times a year, easy. Turns out it wouldn't be too hard, at $65 a pop each for 6 guys including two gas hog gas bills. Also, worst ever: 9.5… As for my 9.5, well that was done crawling...What can I say, crawling is lots of gas for a little distance and I'm pretty impressed I got that good.
.
Legends performing in a historical challenge on the land of myths. Surely, a good reason for one to plunge himself into the misty green... I had been to rallies before - mostly local rally sprint events and eventual hill climbs, but nothing of the volume as this. Funnily enough you would know it was a world championship event because it featured World Rally Cars. No fancy stadiums, no historic tracks, no grid girls, no tracks announcers, no cameras, just some stretches of road on a hillside, spectators and the weather - what rallying is all about.
Sometimes the line between video game and real life takes a strange twist and start blurring together. This video is from a race back in the summer at Grattan Raceway in Michigan. It was the end of July but the weather was awful; cold and rainy. In my infinite wisdom, and directly against my girlfriend's advice, I decided to leave my rain tires at home and instead bring an extra set of slicks. Well guess what happened!? Sunday morning's qualifying session was a complete downpour, so I decided to sit it out. I had fingers crossed in hope for the track to dry out in time for the race.
In this semi-regular thematic post series, I go to the youtubes and track down (hopefully) high-quality footage of wheel-to-wheel racing from the years gone by… Continuing the theme of my self-sourced and self-righteous inspiration, this installment comes again from the world of SCCA Runoffs, this time from 1980's C Production Race.
The Chevrolet Parkwood was the wagon model based on the full size Bel Air platform and was in its 4th generation by 1960. The big six passenger wagon isn't very collectable today even in mint condition, probably because it is slow in stock form...but today's Parkwood is anything but stock. Also check out the Black Always Wins In Bavarian Roulette e28 M5 and Put On A Pirate Outfit And Go Cruising In A Boatswagen.
Before each round of the WRC I'll find a classic clip from the rally for you to enjoy. Rally GB is one of the great classics in the WRC calendar, and this time I'll take you back to 2002. We join the action on the third day. Markko Märtin leads after the second day, but only ONE SECOND behind him is Petter Solberg. Both of them fighting for their first WRC win. Former world champions Carlos Sainz and Richard Burns are fighting for the last podium spot.
The Best of the Rest
NinetyQ did a photoshoot with his Audi 90 and '52 Buick Super. BoumboQC photographed his Chevette welcoming winter. Offroadkarter shared video of his weekend drag racing adventure. Harris Lue shared photos of his father's 1970 F100. ForecefulPlatypus took his MR2 auto crossing. LuczOr went to SEMA.
.
As always, If I've missed something and you would like me to include it, let me know.
Fun Discussions
There were several posts that asked questions and sparked some good discussion on Tuesday and Wednesday. Take a peek and chime in on some of them listed below:
Just the #tips
Honourable Mentions
These posts have already been shared with Jalopnik directly but deserve to be mentioned again because they were first posted in Oppositelock:
Want to participate on Oppositelock? Check out the general handbook for posting on OppositeLock as well the Oppo tools to help you get started.