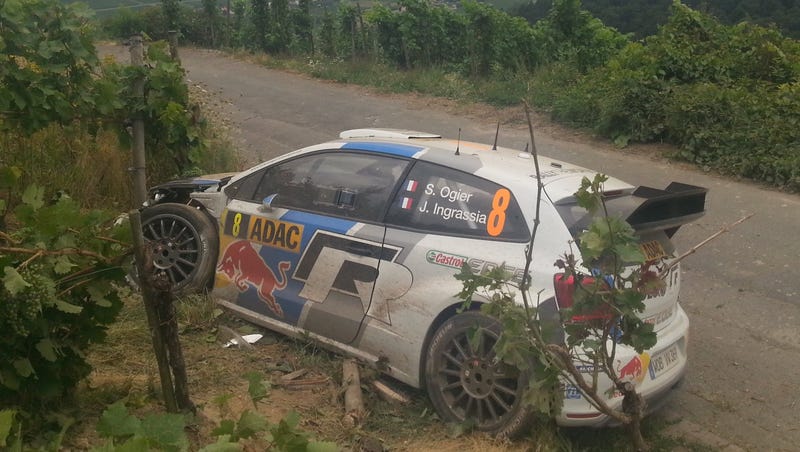 WRC Germany, or Rally Deutschland, is the first proper tarmac rally of the season (we all know Monte Carlo doesn't count), and boy what a show it was this year. Volkswagen, eager to dominate on their home turf, had a cursed weekend, with Mikkelsen withdrawing 48 hours before the rally due to an injured co-driver, golden boy Ogier went off on stage 3, damaging the suspension and finishing outside the points for the first time all season (and the second time he's finished behind anyone other than Loeb), and Latvala followed suit the next day on stage 12. With the German Blitzkrieg out of the way the rally became a head-to-head showdown between Dani Sordo and Thierry Neuville, neither of which have ever won a WRC event. The third day (of four) started with Sordo trailing Neuville by 18.4 seconds and ended with Sordo leading by a scant 0.8. The showdown ended on the final stage when Neuville left the road in spectacular fashion, but still managed to only lose 50 seconds. The final numbers didn't reflect it, but this was the dogfight WRC fans have been wishing for all season, a genuine close battle with no sure victor until the end of the final stage. If only they were all like this.
As for what this all meant for the fantasy league, everyone had Ogier on their roster, so it all came down to the other three drivers and the power stage pick. And this round the winning roster went to World Rally Blog thanks to his bold pick of WRC2 driver and former F1 ace Robert Kubica, who gave a virtually flawless performance to finish fifth overall. Rounding out the Fantasy podium were Dusty and newcomer Freddster, both of whom took winner Sordo over Citroen teammate Hirvonen. Further down the order Hermann's 37 points were enough to tie for the points lead with Nobody. With only four events left the top three in fantasy standings are separated by a scant five points, presenting what could be a major showdown.
Rally Deutschland results:

1. World Rally Blog - 53
2. Dusty Ventures - 51
3. FreddsterExprs - 47
4. Bobololo - 41
5. Hermann - 37
6. Nobody - 23
Points standings through Rally Deutschland
1. Nobody - 403
1. Hermann - 403
3. Dusty Ventures - 398
4. McNewbie - 372
5. Sliding Sideways - 295
6. Bobololo - 268
7. Orlove - 215
8. Bob Loblaw - 169
9. World Rally Blog - 109
10. FreddsterExprs - 47
11. Reigntastic - 39
Average points through Deutschland:
1. World Rally Blog - 54.50
2. McNewbie - 53.14*
3. Hermann - 50.38*
4. Sliding Sideways - 49.17*
5. FreddsterExprs - 47.00
6. Nobody - 44.78*
7. Bobololo - 44.67*
8. Dusty Ventures - 44.22*
9. Bob Loblaw - 42.25
10. Reigntastic - 39.00
11. Orlove - 35.83*
*Has entered enough fantasy events (6) for score to be official.