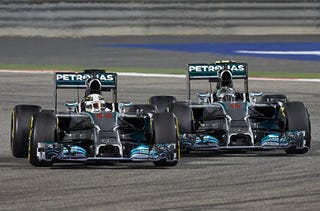 The freakin' 2014 Bahrain Grand Prix.
-I am now a huge fan of Ricciardo. The dude qualified 3rd, got kicked back to 13th due to a penalty from the last race, and very nearly took 3rd back during the race. I think with another lap or so, he would have had Perez for that podium spot.
-The Hamilton/Rosberg fight was simply epic. God bless Niki Lauda and his shunning of team orders. Those two were nearly wheel to wheel for most of the race.
-The crash. It was quick to clean up, the driver seemed okay, and it shook things up for the rest of the race, telescoping the leads. It was teammates fighting nearly all the way down the line.
-Brian Johnson's calling the racers "Me Son" was perfect.