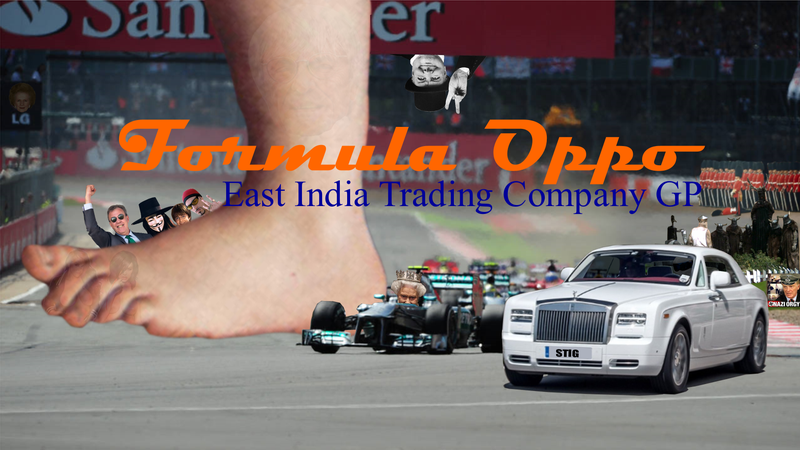 Oy, cunts! Welcome to the bloody machine 9f round of 'ormula Oppo, ya wankers. 'is week of racin' promises to be a right cracka of a gp, if ya know what I mean, (wink wink, nudge nudge) 'ome on in an enjoy the show, Govna!
Last 'ime out, a princess won a race again, a Brit got second and a Fin 'inished in fird. We also got ta see some lovely Strawberry Creams. Wif, the Red Bulls leadin' to a disappointment and the Fezza's mid pack not a lot of people got the results right.
Wif Silverstone being the oldest race in F1, 'ere is a lot of history all over the bloody place. Wif Silverstone being the only British race, the British teams and drivers are under pressure, pressure pushing down on me, pressing down on you, no man ask for.
Under pressure that burns a building down, splits a family in two and puts people on streets. This week, will the Mercs be sayin, don't stop me now? Can Williams, perform like they did last week? Is this the real life? Is this just fantasy? Will another Red Bull bite the dust? Will Pastor Maldonado be a stone cold crazy killer? Will Kimi be chasing those fat bottomed girls? It's a hard life now I'm here, you don't fool me. I want it all, these are the days of or lives, Flash.
The cunts in this race are:
Sebastian Vettel- Red Bull
Daniel Ricciardo- Red Bull
Max Chilton- Marussia
Jules Bianchi- Marussia
Nico Rosberg- Mercedes
Lewis Hamilton- Mercedes
Kimi Räikkönen- Ferrari
Fernando Alonso- Ferrari
Romain Grosjean- Lotus
Pastor Maldonado- Lotus
Marcus Ericsson- Caterham
Kamui Kobayashi- Caterham
Sergio Perez- Force India
Nico Hulkenberg- Force India
Felipe Massa- Williams
Valtteri Bottas- Williams
Kevin Magnussen- McLaren
Jenson Button- McLaren
Esteban Gutierrez- Sauber
Adrian Sutil- Sauber
Jean-Eric Vergne- Toro Rosso
Daniil Kvyat- Toro Rosso
My fish'n chips are on these results:
1. Lewis Hamilton
2. Nico Rosberg
3. Fernando Alonso
Q. Hamilton
Curse: No curse of Princes Diana (Yes I went there, wot u gonna do bout it, mate?)
You have 'till Q1 (Saturday the fif at 8 am) before you make your picks or I'll box ur ears, I swear on me mum!
Tell Ah!