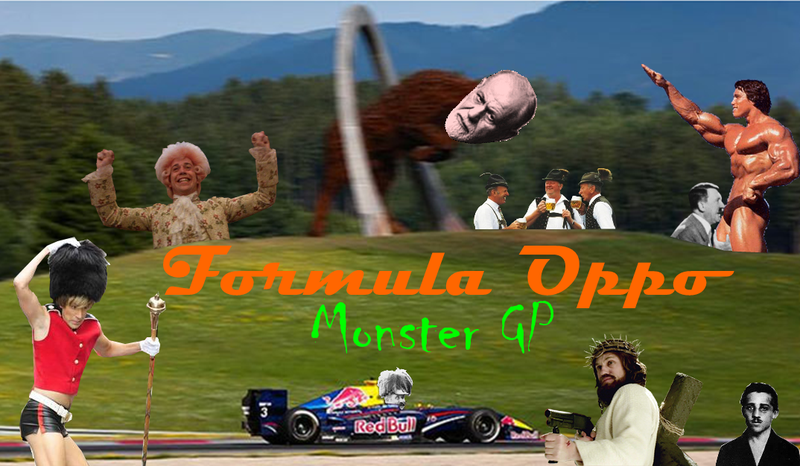 Velcome to ze 8th round of Formula Oppo, ze premier fantasy Formula 1 racing game of Oppositelock. It's time to grab a handful of Vienna sausages, a pitcher of Stiegl (Stiegl- It's gotta be a Stiegl), a pretzel, and your lucky pair of lederhosen to make your picks and enjoy some fine racing.
Last time out, no one saw coming, Ricciardo won the race over the crippled merc of Rosberg and Vettel in third.
In Australia, a newly rebuilt track was made by Red Bull. The track is owned by Red Bull. Two teams are owned by Red Bull. Will Red Bull also own the podium? Will Ferrari pull out of F1 after suffering from erectile dysfunction? How will Mercedes's Silver Arrows hold up? Will we finally see a show down between Green Arrow and Thea Queen in season 3 of Arrow? Will Massa suffer from another crash? Will Maldonado cause the first death in an F1 race since Senna? Will BASF use Ricciardo's teeth as a new standard of white? Why is there a statue of the Red Bull going through the St. Louis Arch? What does it mean? Is the bull secretly a mech that Adrian Newey designed to fight Godzilla? Is this not the creepiest picture of Adrian Newey?
Here are ze drivers for ze racing:
Sebastian Vettel- Red Bull
Daniel Ricciardo- Red Bull
Max Chilton- Marussia
Jules Bianchi- Marussia
Nico Rosberg- Mercedes
Lewis Hamilton- Mercedes
Kimi Räikkönen- Ferrari
Fernando Alonso- Ferrari
Romain Grosjean- Lotus
Pastor Maldonado- Lotus
Marcus Ericsson- Caterham
Kamui Kobayashi- Caterham
Sergio Perez- Force India
Nico Hulkenberg- Force India
Felipe Massa- Williams
Valtteri Bottas- Williams
Kevin Magnussen- McLaren
Jenson Button- McLaren
Esteban Gutierrez- Sauber
Adrian Sutil- Sauber
Jean-Eric Vergne- Toro Rosso
Daniil Kvyat- Toro Rosso
How I predict this race to go:
1. Lewis Hamilton
2. Nico Rosberg
3. Daniel Ricciardo
Q. Hamilton
Curse: Maldonado shall receive the curse of shitty beer!
Auf Wiedersehen und viel Glück