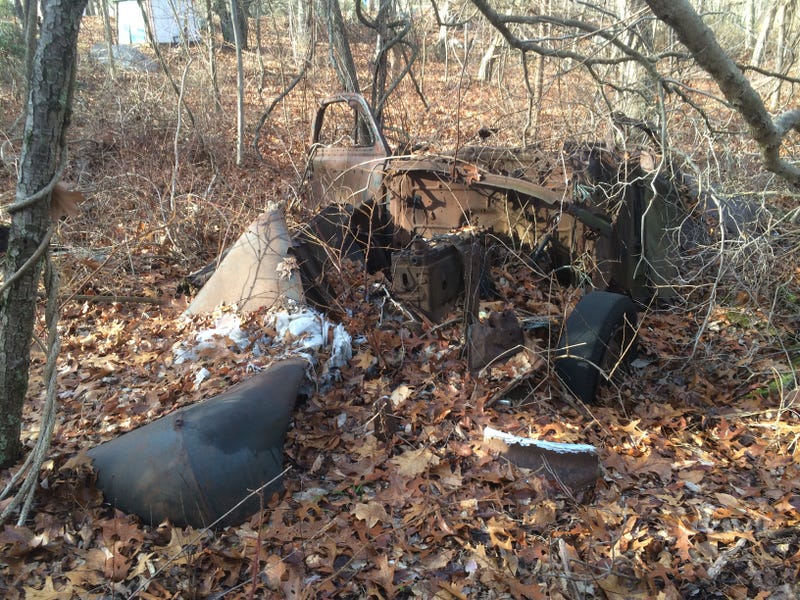 About a hundred yards into the woods behind my parents' house lies the rusty remains of an old car. The question is, which one? (UPDATE: Old-Busted-Hotness says all signs point to an early-40s Oldsmobile, and it's hard to disagree!)
This has been here forever, and was a little more intact when I was a kid. The roof is a twisted mess of rusty metal lying about ten feet away; it won't be any help to you. So, you have a hood, doors, engine block, and what's left of the interior to help you. I checked all over, and there are no markings or badges of any kind, likely stripped long ago.
It appears to be a coupe, since there's no sign of rear doors. According to local legend, after the farms in this area were abandoned in the late 19th century, the land became an illegal dump of sorts before people starting building houses nearby. I never found anything interesting aside from this car though.
I caught a spanking and a tetanus shot as a kid for ruining a pair of my mom's garden shears while trying to extract some rusty souvenirs, like these awesome handles, which even today I tried to pry off before my girl stopped me. What did these all do?
Bonus woods picture. Running around this place as a kid was pretty sweet.