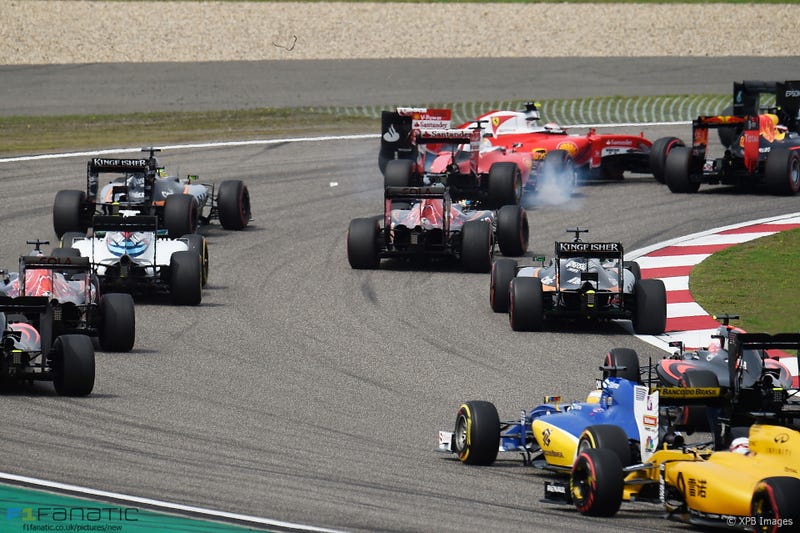 1. F1 needed this race
There's no two ways around it, F1 needed this race. No, it wasn't entirely on merit, but it was entertaining and very little of it felt artificial (depending on how you feel about that safety car…). Hamilton getting eclipsed by Ricciardo and struggling behind Raikonnen was a great image for the sport, despite the reality of Lewis' hobbled car.
Just take a look at the lap chart:
2. Nico's Success: Good Fortune or Good Racing?
Both. Let's not forget that Lewis benefitted from struggles on Nico's end last year that Nico had no control over. It's a bit silly to suggest that because of the nature of Nico's wins at the end of last year and Hamilton's misfortune so far this year that Nico is any less deserving of what he's achieved so far.
3. Ferrari Officially on Pace
Again, Vettel and Raikkonen dispensing of Hamilton so easily wasn't exactly as it appeared, but if Ferrari can avoid some of the team errors and general misfortunes they've experienced so far, they can challenge for wins again. They're likely too far back to do anything in either championship at this point, but perhaps Toto Wolff's constant praise of Ferrari's gains isn't just hollow lip-service. On the other hand…
4. Holy Redbull or, Where did that Renault (sorry, Tag Heuer) powertrain come from?
It wasn't just me, the Red Bulls really didn't seem to be lacking for power. Speed traps from qualifying suggest they're still down, but one would have really expected them to struggle for speed at a track like China, yet they seemed to hold their own just fine. Boy does that chassis look great as ever, it's amazing they've seemed to fly under the radar to this point.
5. Tire Strategies Proving Entertaining
Consider me a skeptic initially of the value of letting the teams go through all of this tire selection bologna, I really thought it was going to be a distraction at best and end up with a bunch of wildly disparate strategies that spaced out the field at worst. To this point in the season, though, it's been a lot of fun seeing the strategies play out; the insanity of Sunday's race really amplified the situation.
6. Williams Continues to Slip
I've stated before that I'm an unabashed Williams supporter, but it's getting tough to watch them slip further and further back from the front and back into the clutches of the midfield. Both cars were minorly wounded to some degree, but they finished back to back at 15 and 16 on the timesheets at the end of the day, outclassed by Wehrlein's Manor, both Toro Rossos, a Sauber, and a McLaren.
7. Haas Hits a Speedbump
Not much to say here except that it was a tough race. Both cars finished pretty well up on the fastest laps list by the end of the day, but nothing seemed to go right. Probably a bit for the better in my mind, a little adversity never hurt anyone.
8. McLaren Flashes...and then Fizzles
At one point in this race it looked like McLaren had snapped out of their coma and were suddenly competitive. The cars were making passes and it looked like that Honda powerplant had come alive. Alas, it wasn't to last and both cars faded back into the pack, albeit slightly uphill from where they had been in recent memory. Button did finish with the third fastest lap on the day.
9. Kvyat Bounces Back, Seb Acquiesces
What a move from Danny Kvyat at Turn 1. At first I too thought he had been overly aggressive, but upon review it was clearly just a solid, competitive move, something Seb eventually came to agree with, albeit after an entertainingly tense parc ferme conversation between the two drivers.
And I'll say that there's probably not a driver in the field that needed a solid performance with a finish ahead of his teammate more than Kvyat. It's been a frustrating start to the year for the Russian, and he's been telling anyone who will listen that he's not slower than Ricciardo but just hadn't be able to prove it.
10. Bernie On His Way Out?
Per AMuS, the F1 manufacturers are looking to oust Bernie at the end of 2016. Additionally, Pirelli is again threatening to leave without more testing guarantees (and probably rightfully so), and Bernie wants to get an EU regulatory commission involved.