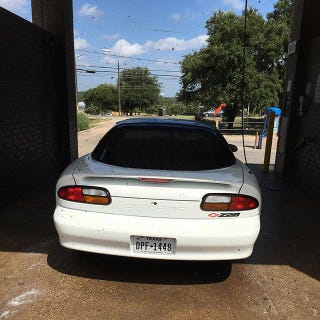 So after I bought the car at 11pm into a Walmart parking lot the gf decided she would drive it to work. I showed up this morning and snagged the car from her to go give it a bath. After the much needed car wash, I was at the gas station and the car wouldn't start. Just that good ole click noise letting you know your battery is going to sleep for good.
My gf even backed that big catfish booty in for bonus points when she got to work.. #wifeystatus
Ended up snagging a new battery for 1 hundred and she fired right up. Took it back to the gf work and rode the grom home to give you oppo's this live report.
Regardless $2600 for a running and driving LS1 T56 Camaro z28 with a/c is a steal. Even with the $100 battery...
Anyone want to take bets on how long it takes before the car has a heads cam swap ?