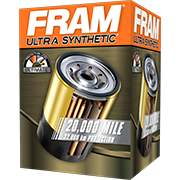 I just figured this one out.
There are 20 Fram Ultra Synthetic Filters at the Walmart Grocery site. Most of them are $8.97 each.
This is what you do...
Buy 6 for $8.97 each which equals $53.82
They will take $10 off that total and you don't even have to go in the store. Most Walmarts now have a special section where they arrange for pickups.
Total cost is $43.82 plus tax or around $7.50 each for a synthetic filter designed to last 20,000 miles.
Alternatively, you can also get two 5 quart bottles of Pennzoil Platinum Full Synthetic for $27.74 Each and you'll hit a double rebate.
Same $10 off $50 as above
Get an additional $20 off from Pennzoil
Your total cost is $25.48 plus tax for 10 quarts.