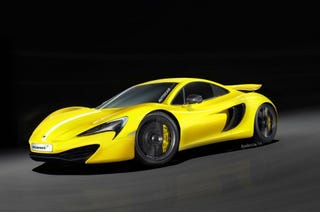 McLaren have planned a smaller car to rival the 911 (unoriginal McLaren, every car manufacturer and their mother go after the 911, you guys should be going after something like the Isuzu VehiCROSS), but more specifically the 911 turbo. McLaren's new offering will stuff a, "version of McLaren's now familiar twin-turbocharged 3.8-litre engine, detuned to around 450bhp." A, "Graziano seven-speed dual-clutch, adapted from the 12C and P1," will send the power to the rear wheels. The prototype will incorporate, "the MonoCell chassis and same fundamental engine and suspension layout as the 12C," yet be smaller.
"Known internally as P13," the planned McLaren will be too expensive, at £120,000, to directly compete with the likes of "the standard Porsche 911 range, Audi R8 and Aston Martin Vantage," that all manage to set you back less than £100k for junior-supercar performance. I will assume the de-tuned engine will be naturally aspirated, which may be a plus to some customers, now that turbos have taken over the supercar industry.
The planned wasp from McLaren will have to drop its price, thereby increasing sales and possibly increasing overall profits, depending on how many more people will want their hands on one; it will certainly cannibalize sales from McLaren's own MP4-12C, and/or not sell as well due to every rich gentlemen wondering why they'd save less than what they paid for their 16-year-old son's used bro-Hummer, for something slower and less prestigious than the MP4-12C (assuming an ignorance of Porsche, Aston Martin, Audi, SRT, Ferrari, Mercedes, Bentley, and every other manufacturer out there attempting to beat the junior-supercar sales of the next guy). I just don't see anyone buying a P13 when the 12C is just a few ten thousand pounds away.
Although, I could see a possible explanation for the 'quasi-rumored' (this means I'm not sure if Autocar made it up or Ron Dennis declared it so.) £120,000 price tag. Having a higher price tag could pull the P13 out of the perpetual battle for the market space surrounding the 911; this would make the P13 seem more exclusive, and as we've learned from the number of vehicles the Porsche 918 (918), Ferrari LaFerrari (499), and McLaren P1(375) are pushing into production: exclusivity means everything to the fat-wallet.
I am an Economist, so, for the most part, I know what I'm talking about.
Survey Time: Given £200k, would you buy a P13 and save some dough, or go all out for a MP4-12C?
[Photo, quoted sections, and some paraphrases from Autocar]