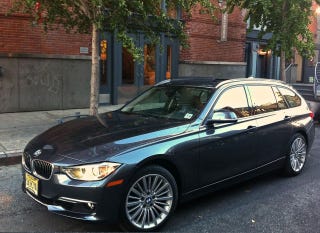 ...and I am comfortable enough with my sexuality to be o.k. with that.
"For a subset of urbane, professional, country-house-owning, canine-loving, New York City homosexuals of a certain age, the contemporary upscale station wagon is extremely arousing—on par with, say, viewing Olympic men's swimming. This is because these vehicles do everything our cohort requires. They can schlep a dog and two gentlemen to the mountains, lake, or beach in comfort and style. They are available (or come exclusively) with all-wheel drive, for added four-season security and not dying. Like the perfect pair of jeans, they can be dressed up for a gala event or dressed down so you won't be singled out and murdered during a trip to rural Vermont. And they provide plenty of space for hauling charming and unexpected roadside finds, like a quartet of wooden Danish Modern dining-room chairs, a trio of patinated iron plant stands, or a pair of West Point cross-country runners who are lost and in need of a ride back to campus...Read more at Vanity Fair"
However, it does make me wonder about the upcoming V60...