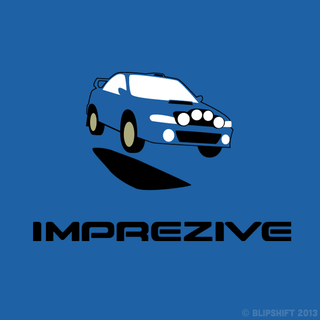 And I am getting the same car I had. In the same color. Yes, yes I am.
End of lease on '09 WRX265 (yes, that's what the MY09 Limited was called) and getting a 2014 WRX. In World Rally Blue. Call me obvious. I just own up to the fact that I am a fanboy.
To be fair, I am getting a short lease (a new weird 30 months) because, you know, the new one is getting unveiled in a few weeks and I may not even get to 30. I would look at getting the second MY of the new one, because they have a history of "fixing" the first year of a new model. Or Tesla will surprise us all with a new smaller car (not Model X) and I'll drop everything and go for glorious electric torque instead of AWD and turbo lag.
It's a good day.
UPDATE: Got the car home. Sweet quad-pipe sound compared to old car. Kept windows down even though it's cold. BTW, a mechanic I know over there said that the sedan have a louder stock exhaust than this hatch. So there you go sedan-fans! Now, to get a pic to prove to the Internets that this did happen today.
UPDATE 2: Pics. Can't. Get. Flickr. Pics. To. Stick. Damn. You. Kinja.
UPDATE 3: Link to album http://www.flickr.com/photos/6597677…
From the pics linked above, you'll be able to see some of the details I enjoy over my '09.
An actual boxer exhaust note. The '09 was so tame compared to the '01 to '07 gen. Good to have it back.
The obvious 2011 stuff: STi wide-body, quad-tipped exhaust, new wider wheels and tires. Unseen are the suspensions tweaks.
Interior trim is darker and there is a bit more red-stiching. Small details, but it is the same car so, I have to dig to find them. Oh, and the instrument cluster has graphical detail differences (moar lines).
No like: clear headlights. 08-'11 had dark background which looked better.
Driver-side window has auto-up as well now. Surprise and delight™!
Since these pics, the Momo shift knob is back on. I also got the dealer to swap my SPT short-shift kit (it's not just the shifter, yo, although as expected, the throws are not that much shorter than stock) between the cars for free. Also, my cargo area mat works, my winter wheels and tires work, my roof-mounted bike rack works, my Pro-Clip phone mount works...
Two things did not transfer: mud flaps (will resell and re-buy) and tint. Yes, I got tint on a leased car. I know a guy, does a pro-level job and is affordable (170$ for the whole car). Am REALLY missing the tint. I had not realized how much of a difference it made (inside and outside).
Today IS my birthday, so I may just shop for car-stuff a bit. An AP maybe?