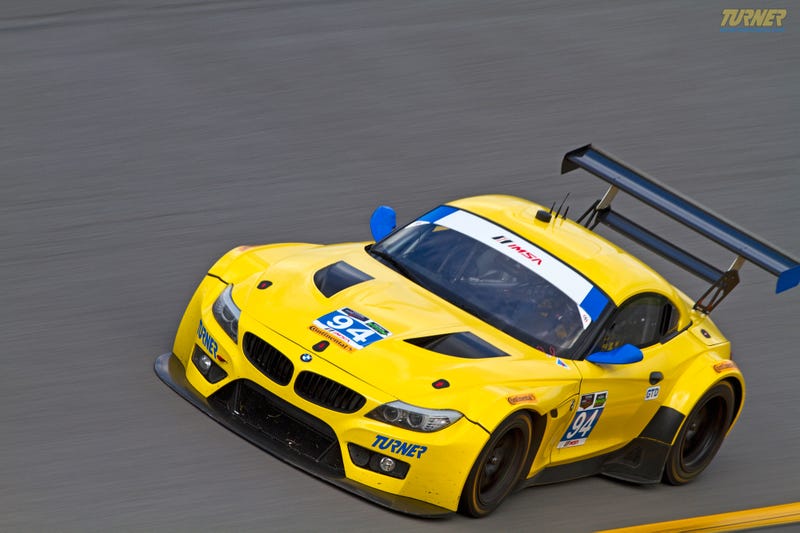 With official test days and entry deadlines right around the corner, Turner Motorsport is anxious to announce its full plans and driver line-up for the 2014 season. However, the merger between Grand-Am and ALMS has brought a whirlwind of changes in the North American sports car world and along with those changes, plenty of uncertainty. The unification of the two largest sports car racing series in America has raised many questions, preventing the announcement of the team's intentions for 2014.
The Turner Team broke out the new Z4 for testing at Daytona earlier this week to "test the waters" for the 2014 TUDOR United SportsCar Championship season.
After campaigning the BMW M6 and M3 models since joining the Rolex Series in 2010, Turner Motorsport is looking to race the BMW Z4 in 2014 TUDOR Championship competition.
"We got our Z4 from a European GT3 team four weeks ago," Turner said. "We ran it at Road Atlanta for a day of testing with Continental Tire. After a pretty successful test, we decided to bring it here."
Turner regular Paul Dalla Lana was joined by Dane Cameron and Pedro Lamy for the Daytona session. "We're struggling a little as we adjust the car from GT3 to GTD specifications," Cameron said. "We're mainly coming to grips with the larger new wing that is used in GTD, and we're trying to regain the car's balance. It's still a work in progress."
Stay Tuned for official announcements on the 2014 season for Turner. We hope you are excited to see this bad-ass machine in race form as we are!