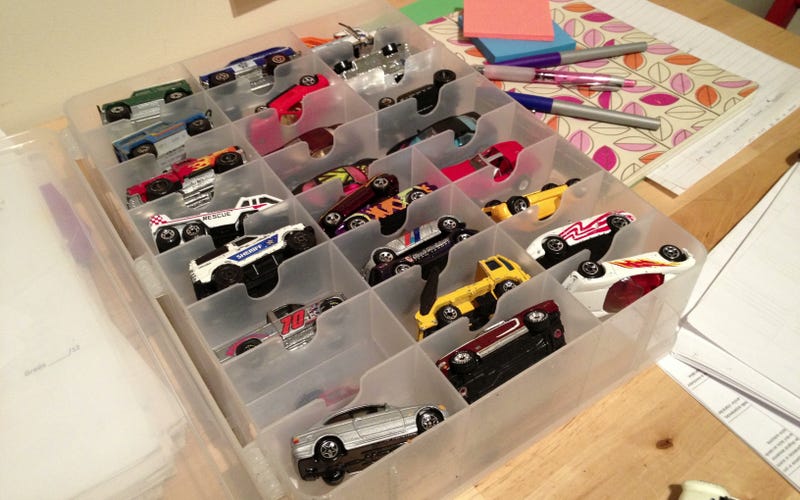 So as some of you may have seen last week, I recently visited my parents and spirited away my old Hot Wheels collection. Round 1 of potential trade candidates can be found here; round 2 after the jump!
1989 VW Passat Variant (ADAC livery)
This one is by Siku, a German die-cast manufacturer with a reputation for quali-tay. It's pretty beat up, but that's only because I knew I loved wagons from an early age. ADAC is like AAA in Germany by the way.
1982 Chevy S10
Hopefully you're not turned off by the 90s-tastic wheels, decals, and paint job (the bed is lime green, and for some reason has rope and a pair of flippers molded into it), because this all-metal S10 by Hot Wheels has the old-school torsion bar suspension and is a serious amount of fun.
1980s Land Rover Defender Safari
This little biddy is by Majorette, a French company that does a solid job with these models. It has a detailed roof rack and a functional tailgate. Plus, the paint job means that it's practically guaranteed to attract animals
See, I told you. Start selling tickets now.
1960s AC Cobras
These metal Cobras are still rock solid after spending my childhood getting thrown into walls and such. Obviously one has a classic metallic red paint job, but the other is covered in soccer designs. It will probably be worth money someday. Truuuust me.
1981 BMW M1
I'm not sure why Hot Wheels decided to take such a cool design and A) paint it teal and B) give it an out-of-place grey plastic hatch cover. But they did. Take it off my hands, please.
1999 Jeep Grand Cherokee
Another realistic entry from Matchbox, this Grand Cherokee has an absurd amount of suspension travel and can strike an articulated pose that would make a real GC blush... if you press down on it a little. Come on, it's not magic.
1962 Studebaker Champ
That's right, another awesome model that's been painted teal (although this one is slightly more period correct). Made by Johnny Lightning, it has rubber tires but no suspension travel, but it's all metal.
1969 Dodge Charger Daytona
Everyone loves the original Charger Daytona. Everyone. Consequently I was like Lenny with those goddamn rabbits with this thing - I wanted to play with it so much I couldn't help but break it a little. The paint is chipped and one of the front wheels has a negative camber, but it's still a looker.
Look for Round 3 later this week!