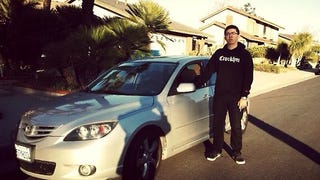 The Mazda3 is not an amazing car. Despite kind of almost sharing a name, it is nowhere near the level of luxury or chassis refinement as a BMW 3 series, or even an Audi A3. However, at a price several thousand dollars cheaper, it manages to provide a driving experience that comes reasonably close. Quite simply, it does its job enthusiastically and it does its job well.
This particular 3, purchased new in 2005 by my father, has perhaps been through more than most. It has endured over 120,000 Los Angeles highway miles, 100-degree-plus temperatures, being rear-ended by a Dodge Durango, a botched home garage motor mount replacement (to me, it never seemed quite as smooth after that), and most recently, an engine swap from a totaled 3 after Midas forgot to put the oil filter on after an oil change, leading to the engine seizing one morning soon after. And that was just from my dad.
I personally have subjected the poor economy car to multiple canyon, highway, and street battles, several failed burnout attempts, and almost wrecked it in every possible way - nearly understeering off a cliff with my friend's SR20DET swapped S13 tailing me closely down the infamous Glendora Mountain Road, somehow managing to inflict oversteer on the 57N onramp from Temple Ave., and multiple close calls with other cars on the highway, most of which were surprisingly not my fault.
Make no mistake, the Mazda3 is an economy car. The Mazdaspeed may be a different story, but the regular 3 is nothing but an economy car with a sporty edge.
Imagine a responsible, capable young dad. One who takes care of his family and keeps the bills paid, but still stays active with his kids, playing sports and almost keeping up with them. That's the Mazda 3. It's no bland Versa or xB, and at times it will make you feel like you're driving a sports car. But at the end of the day, it won't keep up.
Exterior: 8/10
This first iteration of the 3 is a clean design. Inoffensive and pleasing to the eye with its rounded shapes and sculpted sides, I might even go so far as to call it classic - like the Citroën DS, BMW E46, and other classic designs, it is honest and smooth. It is free of gimmicks or fads, and seems to be well-liked by all. Although its clear taillights and bulbous pre-facelift grille may be objectionable to some or become dated, the overall shape will never get old. The stock 17" wheels and fender sculpting are even kind of aggressive. Weird for an economy car. But very, very unique and attractive.
Interior: 7/10
The interior is… decent. My dad hates the seats, which are noticeably more sporty than our '95 Nissan Quest GXE's high, plush thrones. He says they're uncomfortable. But he's wrong. They are comfortable, just not sofalike. And that's totally fine in a sport compact like the Mazda3. They're far from racing seats, but they do offer some side support which will keep you in place during hard cornering. The cloth material and stitching are nice, and have held up well for the almost 8 years we've owned the 3, with no noticeable signs of wear. They aren't the most comfortable to recline and sleep in, but cars were not made to be slept in. They're made to be driven. And for that, the seats are just fine. The rest of the interior is nice, as well. Controls are, for the most part, ergonomically placed, and gauges are easy to read, although the steering wheel can get in the way. The trunk is not cavernous, but can hold a decent amount of cargo, especially with the back seats folded down, and in our Sport trim, all of the surfaces and carpets are of reasonable quality. It's not a luxury car, but nothing feels cheap or low-budget. In fact, my only real complaint about the 3's interior is the rear seat legroom. While it's not exactly cramped, there is almost no room to stretch your legs, especially if the front seat is far back. The '13 Prius that my father just purchased for commuting to work feels much roomier, although in that car my head brushes against the roof. Whatever. I'd rather be a little less comfortable in the Mazda than be seen in a Prius.
Acceleration: 6/10
The Mazda3 is far from a fast car. That being said, it's not a slow one, either. At least with the 160-hp, 150 lb-ft 2.3L engine, it has a good amount of power for zipping around traffic. Passing on the highway is not effortless, but it's not too painful either. Motor Trend tested 0-60 at 7.4 seconds, which seems about right from personal experience. It keeps going until 118 mph, where it's electronically limited. Without the limiter, it could probably hit about 130 before the engine commits seppuku. As anyone who knows about cars knows, there are much faster cars that can be had for much cheaper. But one that came as nicely equipped as the 3, in 2006, with a factory warranty, for around $20,000? That drops the number of choices significantly. For what it is, the 3 with the 2.3 is an eager little car. The automatic transmission can be laggy, especially to downshift, but hey, that's what manu-matic is for. When selecting your own gears, the car feels slightly more responsive. Not a huge difference, but enough to perhaps shave a tenth of a second off of the acceleration time. Or at least make you feel like you have.
Braking: 6/10
Maybe it's just our beat-up old car, but the brakes are pretty bad. They don't do much for about the first third of the pedal, the second third starts slowing the car down, and then with the pedal to the floor, they suddenly grip tight and fling you into the windshield. I don't know, I just wish they would give more of a reaction sooner. The car also does this weird electronic brake assist thing which apparently stops the car quicker by applying full force to all four brakes in a panic stop. I doubt I would have known about it without my dad, and it almost certainly wouldn't take effect in everyday driving, but I don't like it. I'd rather control my own braking force, even in the case of a perceived panic stop, thank you.
Ride: 7/10
It's comfortable without being too disconnected. It's smooth without being too floaty. It's much better than some of the other cars I've driven. But once again, it's not a luxury car.
Handling: 8/10
Handling is where the 3 really excels in its segment. It feels connected to the road, low to the ground and planted, and carves corners confidently. Only when going stupidly fast, as in over double the suggested speed, will any problems arise, mainly understeer to remind you that you're in a front-wheel drive hatchback. For enthusiastic, spirited driving around town, it's one of the most fun cars I've experienced so far.
Toys: 6/10
There's not much on our particular 3. An AM/FM radio! A 6-disc CD changer! No aux jack, no cassette player so that I can use an adapter, no Bluetooth, no navigation. But all of those things were available at the time, and thankfully installing an iPhone integrator looks easy since the stock stereo is already wired for it, as it was an option.
Audio: 7/10
The speakers are crisp and clear, but the midrange could be louder. The interior is a quiet place when in motion, but kind of vibrates, especially when the A/C compressor is on, at a stop. At highway speeds, it's reasonably quiet, but again, that's compared to its price range. Next to a mid-level luxury sedan or compact such as the Audi A3 or Volkswagen Golf, it's noticeably more noisy. The engine sound is nothing special, but with an aftermarket exhaust it can sound pretty mean. It's not wheezy or anemic, but it doesn't sound very powerful either. It's quiet and unobtrusive during conservative driving. The one I drive makes a very slight peculiar whining sound at high RPMs which reminds me of forced induction, but I don't think it did that when it was new. Overall, the car sounds good.
Overall rating: 7/10.
Engine: 2.3L I-4 160 hp / 150 lb-ft
Transmission: 5-speed automatic
0-60 time: ~7.4s
Top speed: 118 mph (electronically limited)
Observed MPG: 24 city / 30 highway