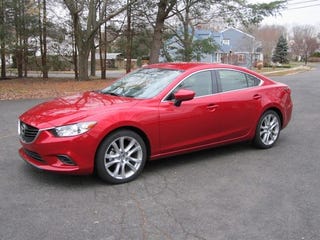 Mazda has restyled their midsize 6 sedan for 2014, and in the process created an automobile that stands out in the midsize segment for its stylish looks. This segment has historically been dominated by staid designs like Toyota's Camry and Honda's Accord, but this began to change a few years back with Hyundai's Sonata redo and in 2013 with Ford's restyled Fusion. Mazda is continuing the trend - even upping the ante with its 6 sedan.
Powering the 6 is a new 2.5 liter four-cylinder rated at 184hp and 185lb-ft torque which motivates the 6 from 0-60 in the mid-7 second range while returning an EPA rating of 25mpg city and 37 mpg highway (29 combined). While the test car came with a six-speed manual transmission, a six-speed automatic is available with EPA ratings 1mpg higher than the manual. The four-cylinder is currently the sole engine option as the previous model's V6 is no longer offered. Later in the model year Mazda's new Sky-D diesel will be available, and its 100lb-ft (minimum) increase in torque promises to make for an even more entertaining drive, while returning an estimated 40+mpg highway.
The test car is the 2014 Mazda 6 Touring sedan, with a base price of $23,445 and total MRSP of $25,010. Included in the standard equipment is 5.8" color touch-screen display, 19" alloy wheels, keyless entry & ignition, dual zone automatic climate control, blind spot monitoring, hill start assist, leatherette-trimmed seats and a 6-way power driver's seat. Standard safety equipment includes antilock disc brakes, traction and stability control, front-seat side airbags, full-length side curtain airbags and active front head restraints.
Inside, the materials quality and fit & finish level is top notch; controls are well laid out and user-friendly. The touchscreen interface was not as well thought out however, and the functions were not as intuitive as other mfr's. A dial selector and function buttons below the shifter does simplify most tasks though. The driver's seat was comfortable even with side bolsters meant for aggressive cornering, which came as a surprise. Head and legroom for the back seat passengers is comfortable enough for a six-footer although the sloping roof may give a bit of a claustrophobic feel for some.
On the road, the 2.5 liter Four motivates the car well enough but must be pushed high into its rev range to offer any kind of sporty performance. Off the line, the car felt a bit sluggish until reaching 3500rpm or so, and then the power came on. Mazda continues to buck the trend by offering a manual transmission where most other automakers have only automatics in their midsize sedans. This is a car that rewards a driver skilled in operating a manual transmission - keeping the engine up in its power band had a great effect on the fast "feel" of the 6. Handling-wise the car feels light on its feet in brisk cornering maneuvers, but rough pavement creates vibrations that are transmitted to the passenger compartment; probably a result of lower-profile tires on the 19" wheels. For less aggressive driving styles, the 6's compliant suspension provided for a smooth ride, and normal cornering resulted in little body roll.
Big picture: the new 6 is an attractive car with a well laid out & spacious interior that's fun to drive (more so with the manual trans) that comes nicely equipped for $25,000. In fact, it was named Popular Mechanics' 2014 Car of the Year. Still, the lack of a V6 means owners will have to make do with the base Four until the Sky-D becomes available. What remains to be seen is how much more Mazda charges for the diesel, and its EPA ratings; that model may be the one to wait for. The car as delivered is competent in all areas, but lack of low-end power that the previous model's V6 offered is evident in around-town driving. It just seems the motor doesn't deliver on the new sheetmetal's promise, but Mazda could certainly address this in coming years - perhaps with a Mazdaspeed edition.
For more detailed model information, visit http://www.mazdausa.com