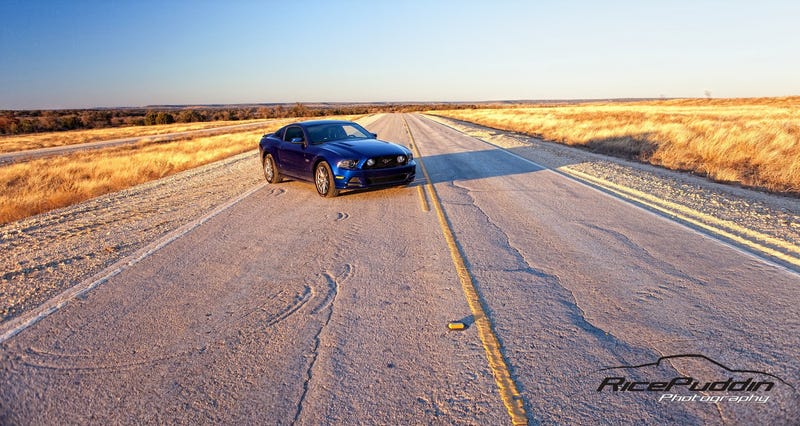 This story begins on an August day in San Antonio with me shopping for a used Mustang GT. I had test driven a few around Ft Hood and was at the local Car Max awaiting my current car's appraisal. See, I had found my Mustang, with all the glory that was the Brembo package, on carmax's website. I just needed to break even on my trade to make it really worth it, but once again I was met with disappointment and I left smelling of defeat (and sweaty Army uniform).

I Decided that I would check out Red McComb's lot to see what they had sitting around in the used section and that's where I saw her. It wasn't love at first site as I was there for a mustang and I hate red cars but after walking around her a few times I decided she was worth a look. She was a 2013 Race Red Focus ST3, and with what she lacked in looks on the outside she more than made up with inside with those beautiful Recaro seats.
Needless to say I took her home and we enjoyed some amazing times together. Over the next few months we enjoyed some great times together, sure she was heavy and the wrong wheels powered her but she was a blast! and I loved her in spite of all her short comings. That is until November rolled around...
See I've never been a fan of overly complicated radios, and something was telling me I should stay away from the MFT option, a voice in the back of my head. But I really wanted those full leather Recaros, an option that only comes on the ST3 trim. I should have listened to my instincts! A control module in the car that is responsible for the radio (and apparently locks) failed, and left me with no music for my weekly trips to and from San Antonio.

Now this sucked but it didn't alienate me from my hot hatch, it just made me become more acquainted with the car's unique sounds. The twin scroll turbo spooling became my Doors and the sound symposer became my Nas (the rapper not the other stuff). What I didn't know was there was another problem lurking around the corner, a serious problem that would haunt me the entire month of December. The module failure was causing a parasitic drain, leading to my car to dying overnight. At first it was every few days, but soon it became a daily thing. My mornings went from getting up at 0430 to getting up at 0330 in hopes of finding someone in my Barracks that would jump start my car, and still make it to 0615 formation. I took her to the local dealership (around FT Hood, probably should clarify that's where I live during the week), they ran and update and nothing! I went on vacation and left it with Red McCombs in San Antonio (for 9 days) they managed to temporarily fix the problem (like 2hrs) before it was up to it's old shenanigans of no radio and dying. Then it got worse, if the car sat for more than five hours it would die. So I now had to jump it after work. Another fix the following week, now the car will read me my texts but it still has no radio and won't start.

I was done, sick of it and ready to be rid of this car. She was like a spiteful girlfriend during a failing relationship just trying to get her jabs in when she could. So I went to talk to the salespeople at Red Mccombs. David Sosa, a sales guy and retired Soldier drove me around every lot that belongs to Red McCombs looking for the perfect car to fit my needs while his manager Joe Martinez worked the numbers to keep me from ending up ass out on the trade. We drove all around San Antonio and thought we had found it, a 2012 Mini Countrymen S that was labeled as a manual on the site however once we drove the 30 minutes to the other lot we realized it was a automatic So I left, once again feeling frustrated that I was stuck in the failing relationship.
I called FoMoCo and asked if there was anything they could do for me, after a (very polite and productive) back and forth with one of their higher ranking customer service folks we ended with a solution. I would be given a steep discount known as the X Plan on any ford product. This was going to take a few days, so on New Year's Eve I called David and let him know what was going to happen and asked if he could get me the Xplan pricing on a new Mustang GT. After talking to Joe, they decided to give me the Xplan pricing without waiting for the code to generate. So once again I drove back to the dealership, and that's when I fell in love again with a 2014 Deep Impact Blue Mustang GT Premium Track pack! I ask David to once again get me a price, he did and we began the paperwork (at 8pm on New Year's Eve).

I left that Night with my new Mustang and feeling as if both FoMoCo and Red McCombs had taken care of me! Sometimes it seems as if only the bad dealership stories ever get told, so today I wanted to share a positive one. I know most don't view Oppo in the evening and this will probably never make the front page but I am grateful for the customer service and want to share with as many as possible. I am looking forward to many adventures and photo shoots with my Mustang and hopefully a long happy life together.
TL;DR
FoMoCo and Red McCombs Ford in San Antonio exhibited excellent customer service