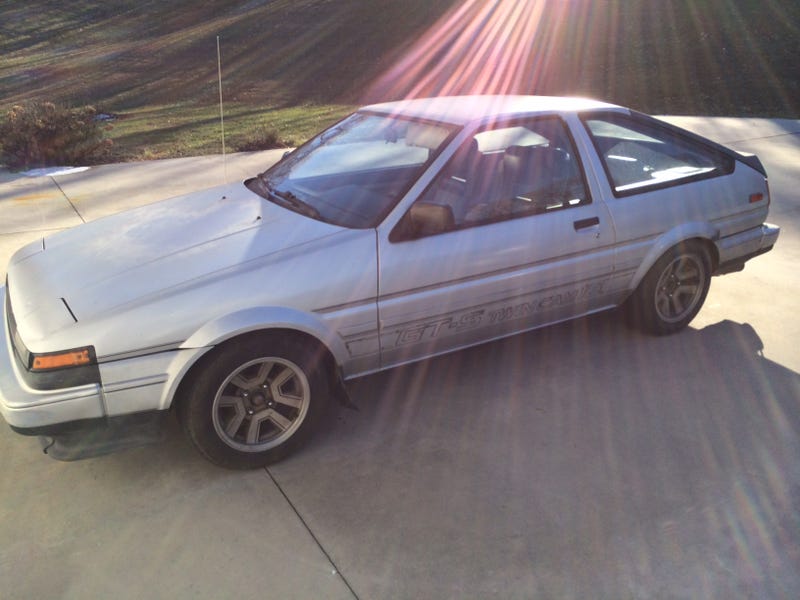 Wish granted, for both parties.
First, a little back-story. In the early '00s, I went to college. I wasn't big into sports, I wasn't really all that into partying, but I was REALLY into cars. Saw a flyer one day walking across the grounds at UVA about a un-official UVA car club (UVA didn't want people thinking they endorsed a car club at the time so we had to call ourselves CAV for Cavalier Association of Vehicles). Met my current best friend there. He was living in the Japanese Language House. Initial D had a cult following there. I watched it and like many, I was seduced by the "alure" of the AE86. I moved on to the flesh and blood of Best Motoring and ended up saying "some day" to the idea of owning one.
Fast forward a decade and Patrick's article pointed me to an ebay listing. I read the listing and followed it with my ebay app. I occasionally checked to see where the bidding stood but once it got over $4k I stopped following as closely. The auction ended and I checked to see what it finally went for. To my surprise, three bids were retracted and it went for under $4k. To my greater surprise, I found out the car was two hours away in NC and a few minutes from some family in Asheville. Knowing how often eBay car auctions fall through, I texted the seller and said if the buyer backs out that I'm two hours away and would love to come by and take a look. Sure enough, the bidder wasn't serious and I found myself test driving an AE86 on New Year's day.
Come to find out the original owner was a Toyota service tech that ordered it with all the goodies like LSD and cruise control. It then ended up being taken care of by James and his friend, who also just happened to end up being a service tech. Needless to say, it's one of the best running AE86's I've ever seen. It cold starts on the first turn in 18 degree weather. Unfortunately, the brake booster decided to give up the ghost the day of my test drive and manual brakes had to suffice. Being a tech and an awesome guy to boot, the seller offered to hunt down a booster and install it by the afternoon (New Year's Day). I told him "no rush, I'll take the car and be back over the weekend to pick it up". He replaced the booster, master cylinder, flushed the system, and put new fluid in...on the house (it helps that a OEM master cylinder is $30). He went over everything he thought might need attention later (wheel bearing, alignment, etc). He even made me aware of a very slight leak on the oil cooler, told me what to get to fix it, and how to fix it. He also threw in the original rims. Told me to call anytime I needed help with it and offered to buy it back if I got tired of it someday. I told him she's in good hands.
Drove the two hours home, checked it out and the only issue is the weeping around the hose on the cooler he told me how to fix.
First order of business is replacing the oil cooler lines. Once the weather gets better I'll cut out, weld, grind, and polish the small rust areas visible at the back of the rear fenders. Find a GT-S hatch to replace the SR5 that's on it and probably leave it at that for a while. Maybe pickup some JDM bumpers, who knows? Maybe help bring Bosozoku to the states (kidding).
I'd love some feedback/suggestions. The new project begins.