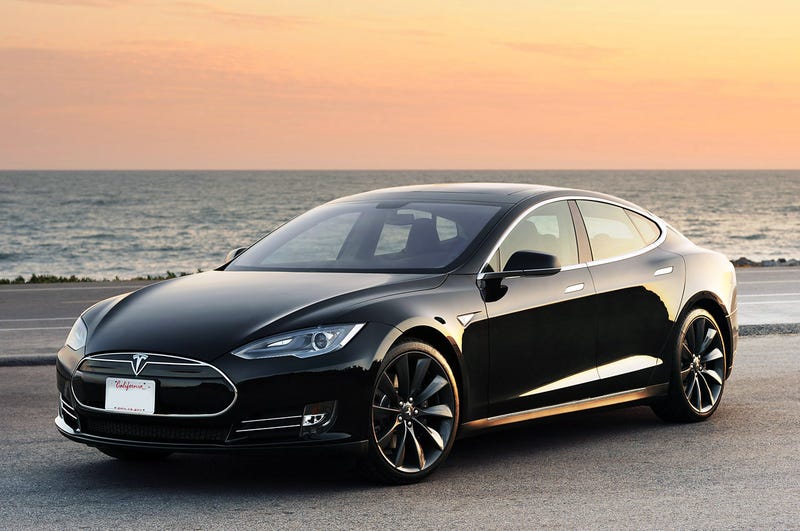 The third Model S showed up in my work parking structure this morning. Second P85 model (that's the top spec).
Sorry, no SR20, as I don't always feel comfortable taking pictures of people's cars, especially in my work lot (seems a bit weird/invasive), but here's what the new one looks like.
I know one of the guys and was lucky enough to take his car for a drive last week. Even his "base" spec model had ridiculous acceleration. It didn't matter if you were coming off the line or cruising on the freeway, it takes off way faster than my M5. The interior is fantastic - his is optioned with the real wood inlays, which aren't slathered in plastic, so you can actually feel the grain.
While the big display is really cool, it brings distracted driving to the next level (being able to browse ESPN.com or watch YouTube while you're driving), and I still don't like the lack of real HVAC buttons. You can't reach over and feel for them without looking, you have to look and see where your finger is going.
My final gripe is with the stalks on the steering column. There are two on the left: one for the telescoping wheel adjustment (and some other things), and one for turn signals/wipers. The placement of the first one had me moving the steering wheel instead of signaling. The owner mentioned he had trouble with this for the first couple weeks as well. I'm not sure why this isn't made a small nub, like other cars have done, since it shouldn't be used that often.
The gear selector, and this is purely a personal issue, reminds me too much of cheaper cars (and older cars). This is an expensive, high-tech car, so I expected buttons or a cool aluminum lever to change from park to drive to reverse.
Even with those (very) minor things, I'd buy one in a heartbeat if it made sense for me.