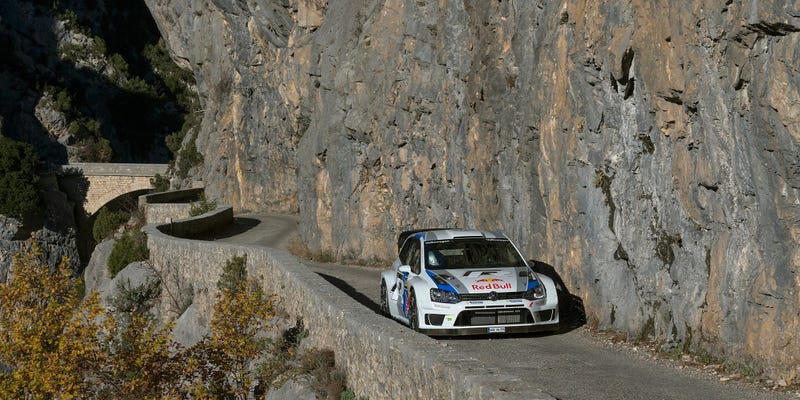 WE'RE BACK! After an off season that seemed to last years we are finally ready to start the 2014 WRC season, and with the biggest shuffle the WRC has seen in years this could be one of the most interesting seasons in recent memory. We have a new manufacturer, Hyundai, returning for the 2014 season after a ten year absence, but beyond that of the thirteen "main" drivers named for the 2014 season only four of them (Ogier, Latvala, Mikkelsen, and Prokop) are in the same cars they were in last year. Kris Meeke, Elfyn Evans, and Robert Kubica will all be taking part in their first ever full WRC season, Mikko Hirvonen has returned "home" to M-Sport, and Thierry Neuville, after a stellar 2013 season, will be experiencing his first ever season as a team's official #1 driver, having signed to lead the new Hyundai team (presumably because he and the car wear the same glasses).
Now how about the Oppositelock fantasy league? Well first of all we have some new rules. You're going to want to read them because there were some important changes during the off season. Also, I've added two little housekeeping rules to cover a couple fairly minor issues we had during the 2013 season. 1) If you don't get your picks in before the start of the rally don't freak out, you can still make picks, though to make it fair you'll be penalized 5 points for missing the first stage and 2 points for every subsequent stage run before you submitted your picks. 2) If, after you have made your picks but before the start of the rally something happens to one of your drivers (injury, penalty, alien abduction, suddenly realizes he's meant to be a baptist minister) you can adjust the position of or replace said driver with no penalty.
As for Rallye Monte Carlo, it's one of the oldest rallies in the world, first run in 1911. The modern iteration is known as one of the toughest rallies on the schedule as conditions change constantly, with dry tarmac, wet tarmac, icy tarmac, and snow all possible on a single stage. Nowhere is tire choice more important than it is here and those who get it wrong often find themselves getting in arguments with solid objects. Jari-Matti Latvala and Thierry Neuville are prime examples of this. Despite having six starts between them, have never scored a single point at this difficult rally, with five retirements in six starts. For those who do succeed in surviving the Monte the event is a thrill and often on the list of a driver's top three events. With the famed Col de Turini, one of the best driving roads in the world, as the signature stage the rally is a thrill for competitors and fans alike.
Now for the teams entered in the 2014 Rallye Monte Carlo, and more importantly, the NEW LIVERIES!
Volkswagen has tweaked their livery slightly, the leaining color bars of 2013 are now pointed, because the shape reduces drag. Or something.
Volkswagen Motorsport Drivers
•Sebastien Ogier - Avg pts last 10 races: 19.4 / Avg pts Monte Carlo: 18.0 (1 start)
•Jari-Matti Latvala - Avg pts last 10 races: 13.9 / Avg pts Monte Carlo: 0 (4 starts)
Volkswagen Motorsport 2 Drivers
•Andreas Mikkelsen - Avg pts last 10 races: 4.9 / Avg pts Monte Carlo: 0 (0 starts)
Citroen, from what I've gathered, is keeping the old 2013 livery, which is a bit of a bummer since everyone else will have new colors. Not that it isn't a good looking car, but I was hoping they would channel a bit more of Loeb's gorgeous retirement scheme for 2014.
Citroen Total Abu Dhabi WRT Drivers
•Kris Meeke - Avg pts last 10 races: 2.4 / Avg pts Monte Carlo: 0 (0 starts)
•Mads Østberg - Avg pts last 10 races: 7.3 / Avg pts Monte Carlo: 8.0 (1 start)
Hyundai went with what is almost a Gulf look with the light blue and orange, though the blue is off from the famed livery (presumably to avoid any angry letters/lawsuits from Gulf, especially since their primary sponsor is rival oil company Shell). Either way it can't be denied, that's a good looking rally car
Hyundai Shell WRT Drivers
•Thierry Neuville - Avg pts last 10 races: 13.6 / Avg pts Monte Carlo: 0 (2 starts)
•Dani Sordo - Avg pts last 10 races: 10.3 / Avg pts Monte Carlo: 9.2 (6 starts)
Bad news for M-Sport is they lost financial funding from Qatar. Good news for M-Sport is with no main sponsor dictating the livery they can design the car to look however the fuck they want. Back in December I tweeted AC/DC's "Back in Black" to M-Sport, calling it a "livery suggestion." They coyly liked the tweet but didn't say anything in response. I'm excited to say M-Sport is indeed back in black and the new livery is sex. Pure x-rated sex. I'm already dusting off a space on my shelf for a model M-Sport Hirvonen Fiesta.
M-Sport (Ford) Drivers
•Mikko Hirvonen - Avg pts last 10 races: 9.5 / Avg pts Monte Carlo: 10.0 (6 starts)
•Elfyn Evans - Avg pts last 1 races: 8.0 / Avg pts Monte Carlo: 0 (0 starts)
•Bryan Bouffier - Avg pts last 1 races: 10.0 / Avg pts Monte Carlo: 10.0 (1 start)
Robert Kubica was supposed to be M-Sport's #2 man, but he is backed by Polish oil company Lotos while M-Sport is backed by Castrol. To avoid angering both companies a new team was made, RK M-Sport World Rally Team. It's every bit as M-Sport as the main team, but without having to ditch any sponsors. I'm not entirely sold on the chrome, but I am entirely sold on Kubica at the top level of the WRC, especially after his batshit insane drive on the final stage of the Janner Rally.
RK M-Sport WRT Drivers
•Robert Kubica - Avg pts last 1 races: 0 / Avg pts Monte Carlo: 0 (0 starts)
Like Citroen Martin Prokop is back with the same livery as 2013. That said it's not a bad looking car. I just wish we saw more of it.
Jipocar Czech National Team Drivers
•Martin Prokop - Avg pts last 10 races: 5.1 / Avg pts Monte Carlo: 4.2 (2 start)
No word on what to expect from Francois Delecour for a livery. This race is effectively a one-off for the experienced independent, but he'll still be someone to watch.
•Francois Delecour - Avg pts last 10 races: 1.3 / Avg pts Monte Carlo: 8.0 (1 start)
The Slovakia World Rally Team and driver Jaroslav Melicharek (great, another name I can't spell or pronounce) are another new addition to the WRC. Like Bouffier I haven't found a livery for him, so we'll just have to wait and see what his Fiesta looks like at Monte.
Slovakia World Rally Team Drivers
•Jaroslav Melicharek - Avg pts last 0 races: 0 / Avg pts Monte Carlo: 0 (0 start)
For the full driver stat sheet click here
For the full Rallye Monte Carlo entry list click here (sometimes those WRC2 drivers are a good dark horse pick)
Alright, everyone. First rally of the season. Post your picks below (5 drivers, no teammates, plus your power stage pick, read the rules, foo!) and let's get this season underway.