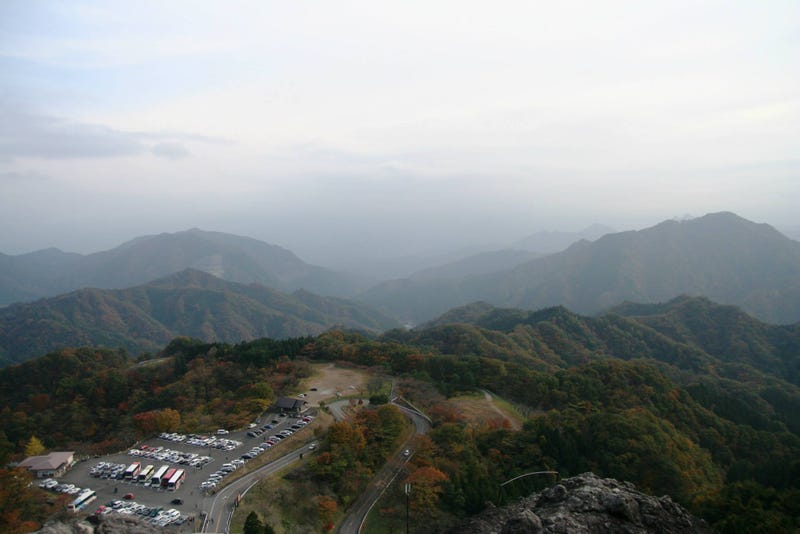 Gunma Prefecture is a landlocked region in the Tokyo Regional Area, about 90 minutes northwest of the city of Tokyo by express train. It is well known for its beautiful mountains, ancient Jomon cultural assets, skiing, and hot springs... Well, that, and for being the setting of Japanese drifting culture comic and animation Initial D. Having driven Gunma myself, I can attest: Yes, it is that damn fun.
Gunma is divided into five subregions, Tobu, Chubu, Seibu, Agatsuma, and Tone/Numata (usually just referred to as Tone, toe-nay, by the resident expatriates). Major mountains include Mount Miyogi, Mount Haruna, Mount Akagi, Mount Nikko-Shirane, and Mount Asama. The mascot of the prefecture is Gunma-chan, who is a horse (not a squirrel, for which Gunma-chan is often mistaken). Gunma is so named because it is an area that used to be famous for horse breeding. There are many facts about Gunma-chan which are humorous, such as the fact Gunma-chan lives in Tokyo, not in Gunma, never ages past 7 years, and is of indeterminate gender. They say Gunma looks like a crane... I guess I can see it.
But... Back to the mountains. Haruna is the most famous (at least outside of Japan), as it is the mountain which is the Initial D main character Fujiwara Takumi's home mountain. It is renamed Akina in the story and can be found on the northern border between Seibu and Chubu. The team from Akina is the Akina Speed Stars, which Takumi eventually joins with his Toyota Corolla AE86 (or hachi-roku as we'd call it in Japan). I've seen a number of AE86s on the roads of Gunma, and it makes me smile each time. I actually saw one fitted out like Takumi's a few weeks back in front of a used anime goods store.
The second of the major mountains is Mount Akagi. In Initial D it is the home of the Akagi Red Suns (the drifting group most notable for their RX-7s). Akagi is located almost dead center of the Chubu region. It's actually a volcano, although it is not considered active or likely to ever be active (reports of activity in 1938 are disputed). It also borders a beautiful lake called Lake Ono, and is famous for being the namesake of the Imperial Japanese Naval Ship Akagi which participated in the attack on Pearl Harbor on December 7th, 1941. The road that passes by Mount Akagi, Gunma Route 62, is featured very prominently in many Initial D episodes.
Mount Miyogi, home of the Night Kids and the scene of three races in Initial D, is the only mountain I have driven entirely from bottom to top and top to bottom. The drive was done in October of last year, after a rather wet and stormy night. I was in a Mitsubishi EK Wagon with a full passenger load so I did not drive too quickly. I did hug the turns, but the car (being a kei) was simply too light to power slide. Did I mention the FWD? Yeah. No. Nothing doing. My passengers thought I was going extremely fast, however. Enough to throw up their hands and pretend they were on some sort of amusement park ride.
Honestly, Miyogi is really beautiful. After driving up it, my passengers and I met up with a bunch of other expatriates (mostly members of the JET Programme) for a hike. The fall colors playing across the mountain peaks and spreading over the landscape, only broken by the dark asphalt and yellow lines of the hairpin turns with beauty only those of us with gears on the brain will fully understand.
Yet it was also extremely dangerous. People die each year hiking the mountains of Gunma. Miyogi is no exception. Indeed, my group almost witnessed such a disaster when an older gentlemen slipped and fell—managing to grab onto a tree branch at the last minute while we worked to pull him to safety. He was scratched up and bleeding. He lost his glasses, but he didn't lose his life. Driving too quickly on these mountain passes isn't the only way to die, and if you disrespect Gunma, this mountainous prefecture may see to it that you pay for your arrogance.
I really like living in Gunma and I'm really hoping not leaving any time soon... I just wish I still had my BMW 3-series sedan. How I would have loved to take it from the Austin Hill Country to the mountains of Gunma Prefecture. Maybe sometime soon I'll fork out for another one? A girl can dream.
Top image via Rebecca Mesch. Other images by Rebecca Mesch and Kat Callahan. Gunma-chan and map composite by Kat Callahan.
Kat Callahan is a writer for Jezebel and currently the LGBT editor at Jezebel's LGBT+ subpage ROYGBIV. She can be reached @JezebelKat on Twitter. She really likes BMWs and misses her former 2000 3-series sedan, which she sold before moving to the Land of the Rising Sun.