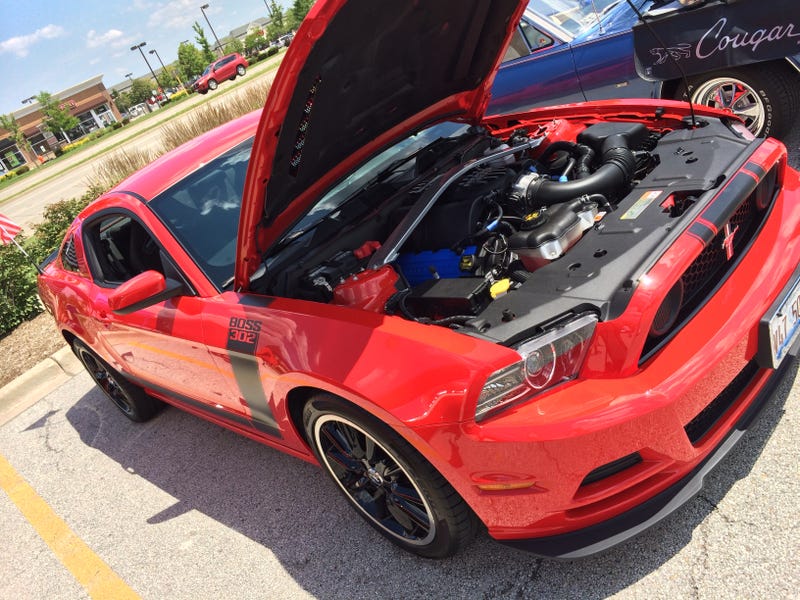 Boss 302, probably my favorite car there; mostly old muscle cars this one...
Mostly engine shots, sorry guys, but all the hoods were up so I kinda had to...
Transformer's police Mustang. Slogan on the side reads "to punish and enslave," and that's what gave it away to me as fake, yes I missed the Transformer's logos.
Bumblebee was there too somewhere, but...
Oh yeah! This was my favorite car there. It was being crowded by some 11-year-olds with their iPod Touches, otherwise I might have gotten some better pictures (all on my potato phone, you've probably noticed).
Not sure if it was a kit or not; didn't check, but mmmmhhhhhh.
Civilized Nissan GT-R.
wut?
I'm okay with it.
Tasty STi.
Walking back to my truck when all of a sudden... What's that?
Oh my goodness!
Ogled over this car a bit too excessively.
drool.
even more drool!
Sometimes the best cars are parked outside of the car shows.
Then Portillo's!
And I finally found a WRX at a dealership, which I think is the only one currently around the Chicagoland area, but they were closed!
I did go test drive a 2.0L turbo Hyundai Genesis R-Spec and a 3.8 R-Spec somewhere else. Loved the 3.8 the best, but it was my first time driving a turbocharged car and I though it was hilarious (in a good way).
Hopefully I will be testing this WRX tomorrow after Supercar Saturdays (who else is going?).