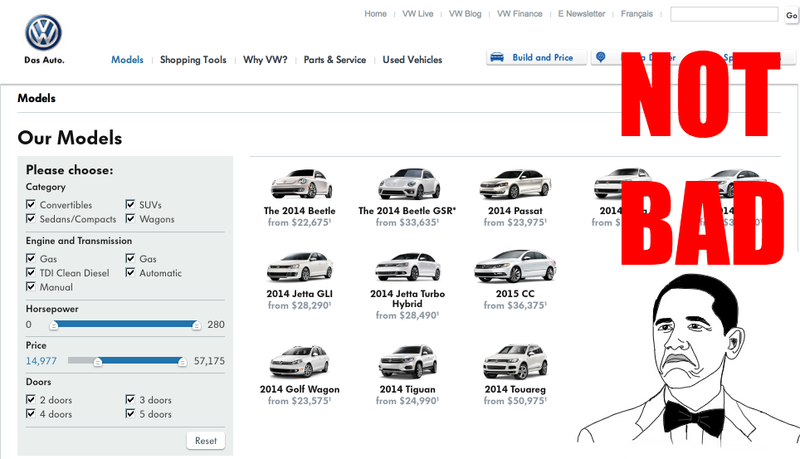 I also spend a fair bit of time on car configurators, though unlike Tom McParland I never get paid to do so. I'm merely shopping for a new car and as such have used most manufacturers' websites. Unlike the VW USA's silly car-seeks-driver relationship service, its friendly Canadian counterpart is not at all infuriating.
Volkswagen Canada's website is cleanly designed and very functional. I can configure any model I might like and it will give me the information about the pertinent options, pricing and contacts for dealers should I choose to check the car out in person. Here are the the ways I can configure a GTI:
I can change the colour on my damn car
I click 'Pure White', 'Tornado Red' or 'Deep Black Pearl' and the car magically changes from the previously selected 'Carbon Steel Metallic'. Amazing, right?
The options are easily found
First I can change my seat fabric. Though the choice is appreciated, it is unnecessary; plaid is the only appropriate seating material for a GTI.
I can then choose the options I would like. Sorry Tom, the lighting package doesn't appear to be available, though this may vary from the US model. The DSG is available, as is the 3-door model, but let's not do anything ridiculous.
This is how much it will cost
The price is too damn high. I blame Canada.
Oh, there's also this handy, dandy payment calculator, to explore the various ways in which VW will charge you too much for your GTI.
At least the website does what I want it to do though, so "neener, neener", I guess.