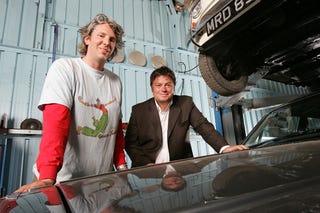 A little while back I asked whether we had reached "peak car show". That conversation didn't go very far, so I've decided to take things in another direction. Below is the one and only official and correct ranking of car shows that I am aware of that are currently showing on American television.
1. Wheeler Dealers
2. Fifth Gear
3. Top Gear, including the specials and series done by the hosts, individually or as a group
4. Chasing Classic Cars
5. Fantomworks
6. Fast N' Loud
7. Bitchin' Rides
8. Wheeler Dealers: Trading Up
9. Overhaulin'
10. Anything on PowerNation
11. Top Gear USA
12. What's My Car Worth?
13. Garage Squad
14. AmeriCarna
15. My Classic Car
16. Graveyard Carz
17. All Girls Garage
18. Counting Cars
19. Car Fix
20. Car Crazy
21. Legendary Motorcar
22. Motorhead Garage
23. Texas Car Sharks
24. The Car Chasers
25. Street Outlaws
26. Jesse James: Outlaw Garage
27. American Hot Rod
28. Fat & Furious: Rolling Thunder
29. Being hit by a car built on a car show
30. Stacy David's Gearz
If nothing else, the fact that there are 28 car related shows currently on TV tells me something.