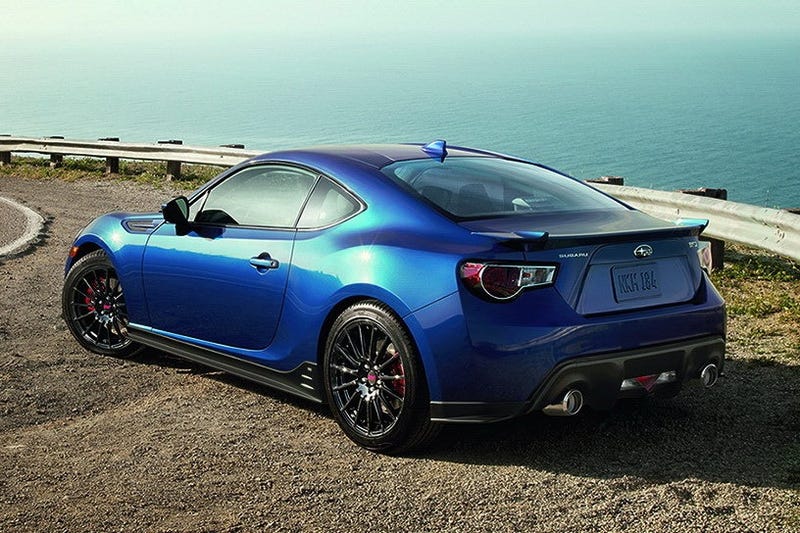 So my room mate and I were sitting around bored today watching that episode of Top Gear where Clarkson complains that the sports car is a dying breed and will be gone soon. My room mate promptly agreed and I told him how wrong he is. He claimed there's next to no sports cars available for sale in the US, and since I disagreed, we set out to make a list. So we did, and here it is: every "sports" car available for sale new in the US right now. What did we miss?
Here's our rules for the challenge:
Had to be defined as it's own model, not just a trim, on the manufacturer's website.
Had to be defined by the manufacturer as a performance / sport car.
Had to be listed as currently available for sale on the manufacturer's web-site.
Used the manufacturer listed MSRP, not the average paid or anything like that.
All trims listed under base model pricing, i.e. all Mustangs are one entry; not one for the V6, V8, Shelby, etc.
Any suggestions for changes or additions of cars we missed?
$19,999 > Under
Kia Forte Koup ($18,590+)
Scion tC ($19,210+)
$20,000 - $30,000
Chevrolet Spark RS ($20,325+)
Ford Fiesta ST ($20,915+)
Fiat Abarth ($22,195)
Mini Coupe ($22,000+)
Honda Civic Si ($22,790+)
Chevrolet Camaro ($23,555+)
Ford Mustang ($23,600+)
Mazda MX-5 Miata ($23,970+)
Ford Focus ST ($24,115+)
Scion FR-S ($24,500+)
Volkswagen Golf GTI ($24,995+)
Subaru BRZ ($25,695+)
Subaru WRX ($26,295+)
Hyundai Genesis ($26,750+)
Dodge Challenger ($26,995+)
Dodge Charger ($26,995+)
Nissan 370Z ($29,990+)
$30,000 - $40,000
Mitsubishi Lancer Evolution ($34,995+)
Infiniti Q50 ($37,150+)
$40,000 - $50,000
Infiniti Q60 ($40,950+)
Chevrolet SS ($43,475+)
Mercedes-Benz SLK-Class ($43,950+)
Audi TTS ($48,700+)
BMW Z4 ($48,950+)
$50,000 - $60,000
Porsche Boxster ($50,400+)
Porshce Cayman ($52,600+)
Chevrolet Corvette ($53,500+)
Alfa Romeo 4C ($53,900+)
$60,000 - $70,000
BMW M3 ($62,000+)
Cadillac CTS-V ($63,600+)
Lexus IS-F ($63,600+)
BMW M4 ($64,200+)
Jaguar F-Type ($65,000+)
Lotus Evora ($68,480+)
$70,000 - $80,000
Audi RS5 ($70,900+)
$80,000 - $90,000
Mercedes-Benz SL-Class ($84,000+)
Porshce 911 Carrera ($84,300+)
Jaguar XK ($84,500+)
Dodge Viper ($84,995+)
$90,000 - $100,000
BMW M5 ($93,600+)
$100,000 - $125,000
Nissan GT-R ($101,770)
Audi RS7 ($106,500+)
BMW M6 ($111,900+)
Audi R8 ($115,900+)
Mercedes-Benz CL-Class ($116,600+)
$125,000 - $150,000
Maserati Granturismo ($126,500+)
$150,000 - $175,000
Porsche 911 Turbo ($151,100)
$175,000 - $200,000
Bentley Continental GT ($177,500+)
Aston Martin Vantage ($180,600+)
Ferrari California T ($198,190+)
$200,000 - $250,000
Spyker C8 Aileron ($219,190+)
Mercedes-Benz SLS-Class ($221,580+)
Ferrari 458 Italia ($233,509+)
Lamborghini Huracan ($237,250+)
McLaren MP4-12C ($239,400+)
$250,000 - $300,000
McLaren 650S ($265,500+)
Aston Martin Vanquish ($279,995+)
Rolls-Royce Wraith ($284,900+)
Ferrari FF ($295,000+)
$300,000 - $400,000
Ferrari F12 Berlinetta ($318,888+)
Lamborghini Aventador ($397,500+)
$750,000 - $1,00,000
Porsche 918 Spyder ($845,000+)
$1,000,000+
McLaren P1 ($1,150,000+)
Koenigsegg Agera ($1,300,000+)
Ferrari LaFerrari ($1,400,000+)
Bugatti Veyron ($2,000,000+)