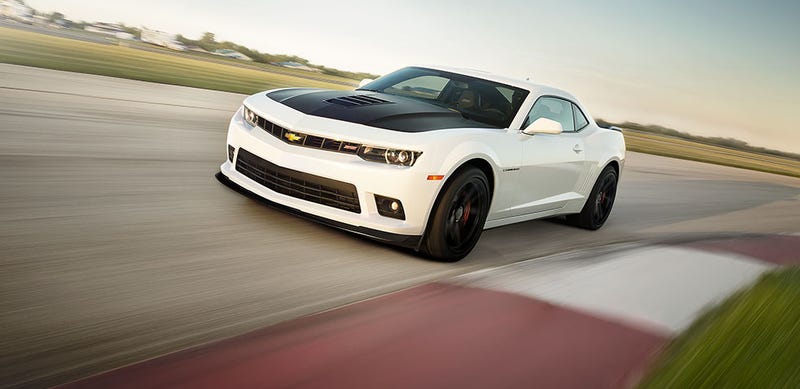 It's a gorgeous day for a test drive in Southeast Michigan, so I found a dealer nearby with a manual Camaro SS on the lot. I called them up (George Matick Chevrolet in Redford) and scheduled a test drive.
We got there and a salesman (John) greeted me right away, I mentioned I'd called ahead, and he confirmed the car I wanted to drive and went to get the keys. After scanning my license, he walked us over to the Camaro and told me how to get to the highway so I could get it up to speed. When I got in, it was really low on gas, so I mentioned it and he went to fill it up. After a few minutes browsing the lot, he brought it back and I was on my way. The exhaust sounded great, and it was definitely faster than the XJ (lollll) but I wasn't in love with it overall. When I brought it back (traction control put back on!) he asked how it was, and mentioned that since it was a 2014, they would be offering additional rebates. We had a brief low-pressure chat inside, where I was honest and explained that although it was a fun drive, I wouldn't be buying until spring (no use buying now just to store it all winter), that I'd be looking at Mustangs as well before deciding, and if I ended up going with the Camaro I would be ordering a yellow 1LE so I wasn't worried about the one on the lot getting sold. He understood completely and didn't push the subject, but said he felt confident that once I tried the competition I'd be coming back to the Chevy, and gave me his card.
You heard right: They gave me, a 24-year-old (albeit a polite one who called ahead), the keys to 426 horses and three pedals with all of 7 miles on it, with nothing but my license and phone number. No hassle, no hard pitch, nothing but quality service. If I do end up ordering a yellow Camaro SS 1LE this spring, I will definitely be giving him a call.