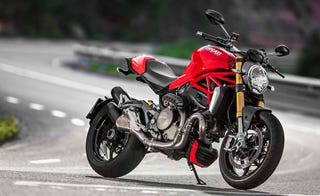 BMW's R nineT is retro-sport-cruiser that does a better job doing all of the things the Ducati Monster 1200 is supposed to do, even if it's not Italian and doesn't have an L-twin engine. In this case, the air-cooled boxer is better.
``R nineT'' is a totally un-German play on words chosen to mark the Bavarians' 90th year of building bikes and to channel the famous R90S of the 1970's — the cool ones like your dad used to ride, back when these upright cruisers were considered ``sportbikes.'' In fact, the R90S actually won the first U.S. AMA Superbike Championship in the hands of British pilot Reg Pridmore in 1976.
But these days proper sportbikes are all liquid cooled (boo!) so they can go faster and packed with computer gizmodiarrhea (yay!) so you don't crash. If you want a daily driver you can ride to work AND take to the track, BMW also makes a stripped-down, four-cylinder superbike with 160 hp in less than one liter. And KTM's 1290 SuperDuke twin makes 180 hp. Choose one of these:
That's not what this Beemer is about, and neither is Il Mostro — though it also has superbike roots: Godlike motorcycle designer Miguel Angel Galluzzi created the original Monster in 1993, by taking the faring off an 851 superbike frame with the front end of a 750 SS, throwing in a 900 SS engine, and adding handlebars.
Then-technical director Massimo Bordi told Godlike motorcycle journalist Kevin Ash that he'd asked Galluzzi for ``something which displayed a strong Ducati heritage, but which was easy enough to ride and not a sportsbike.''
``This was the bike Marlon Brando would be riding today in the film The Wild One!'' Bordi told Ash.
Ok, so that's a Triumph (correction of awesomeness: Matchless). But it's much more in the vein of the original Monster or the R nineT than the space-aged mid-life crisis that is the 1200.
They all have round headlights, they all have sweet looking man-tanks, whereas the 1200's tank has a waist like a woman and looks painted with nail polish.
And they all feel like timeless classics, like rebels from an age of innocence, but with an attitude. The new Monster is a MILF with fake boobs.

The BMW doesn't have four different riding modes, it doesn't have traction control, hell it doesn't even have a slipper clutch! It will bite you if you downshift into a corner and the engine's spinning too fast, but that feels authentic.
And that doesn't mean it's slow, or old, or fat, like Marlon Brando was when he got on in years... Can you believe this shit? That's seriously him.


BMW's 1200 cc airhead also makes 110 horsepower, and while the boys from Borgo Panigale are able to get more horses (135) out of the Monster by adding water, the big boxer actually makes more torque at 119 nm.

Anyway, what the R nineT, lacks in power, it more than makes up for in character. And I'm not just talking about looking-at-it-in-front-of-Starbucks character, I'm talking about ripping-off-the-factory-cans-and-scraping-the-pegs-on-the-pavement character. ``Because I'm talking about the road...''


The BMW is *awesome* in the twisties, and it sounds even better sucking wind. Both bikes have pretty decent ergos, but the BMW is easier to control with big wide bars and the flat twin engine that works like a gyroscope when you goose the throttle. Seriously, i have never had so much fun with a boxer engine.
At first, the bike BMW lent me felt like a toy, there was so much play in the clutch, so much off-kilter centrifugal force, and it is so low it feels like a Vespa. So fun and easy at slow speeds I felt like I should be wearing a Hawaiian shiRt, cargo shorts and flip-flops. Until I got on the West Side Highway.


*Not my actual route.

I was glad to be wearing all of my gear when I spun the engine up past 5,000 RPM and towards the 8,500 red line, the torque kicks in and the thing takes off! Not like a Panigale jerks you away, or like an HP4 sends you into hyperspeed (I know because ``I've made a huge mistake''), but pretty damn fast for such a short, heavy little fcker! (It weighs almost 500 pounds fully fueled.)
And then I got to my favorite spot in New York City: you know when you're headed up the Hendry Hudson, those S-curves through Washington Heights, right before you get to the toll bridge that takes you into Riverdale? And that's where I realized the best thing about this bike: it's got a Webelo-like ability to pop-up once you twist the throttle. It's amazing how it gets upright.
Is this what a Sopwith Camel feels like?
Fortunately the incredibly poorly paved roads of New York city and state remind me that I'm not in a plane. Up the Sprain Brook is great but 287 West across the Tappan Zee Bridge is horrendous and the Palisades Parkway north to Bear Mountain is not much better. Though it's an excellent test of the stock suspension, which soaks up the bumps just fine, a helluva lot better than the superbike.
A helluva lot more relaxed, a helluva lot more fun, which is what these bikes should really be about.
The OG Monster was iconic, it created a class of its own. I mean, Ayrton Senna owned one. And that's frankly all that needs to be said.
And the second generation got lighter, faster and more aggressive. It was a real step forward without being a betrayal of the original formula. I love them both, I have owned two of each, and I still have at least one...


*My second-gen, Monster 1100 Evo (20th Anniv. Edition) pictured.
But the new 1200's stretched-out, single-sided swingarm looks less than, not equal to, the coolness of both of those groundbreaking bikes, and it's boring to ride. Plus, and I didn't want to have to say this, but it's LIQUID COOLED. That is simply not on for a Ducati Monster. It should be called something else.


In contrast, the R nineT is an improvement on the original, without breaking with tradition. Same old formula, better execution.
``It's really amazing, what they can get out of an airhead,'' exclaimed my Ducati mechanic after taking my loaner for a spin, and he used to be employed by Ze Germans. It's also an improvement on the air-cooled GS's and R1200R's I've ridden with similar engines.
*BMW Motorrad sells my dog, Steve, as an accessory.
I still don't think it's worth $16,000, but I guess that's up to the market, and this market is all about supply: there isn't any. BMW says the R nineT is sold out and it's taking orders for the 2015 models now (no change, still black only).
The seat is abysmal, but this bike is easy to customize yourself. In fact, that's a big part of the business case and anyone who's read this far knows that Roland Sands and a bunch of other designers have already taken a crack at it.



I even ordered a new seat from Corbin — $500 and this bike isn't even mine. But it's worth it even if I only ride it for a few weeks. My butt will thank me (and I'll probably buy my own R nineT when they take this away from me).

P.S. Here's a video I made of Galluzzi's five favorite bikes.