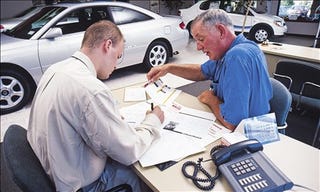 The number of car buying adages and strategies and bullshit I've heard over the last week has been nauseating. People really like to make this shit way more difficult than it needs to be.
"I'll be test driving at a dealership different from where I want to buy the car."
"Uh, why?"
"Old car buying tactic. If I have to spend time with the salesman I can't go directly to the fleet/sales manager later and haggle with the boss. If a guy walks in with a checkbook ready to buy, and they have to show zero effort in selling it, they will go cheaper."
Any fellow Opponauts with favorite tripes and adages to share?