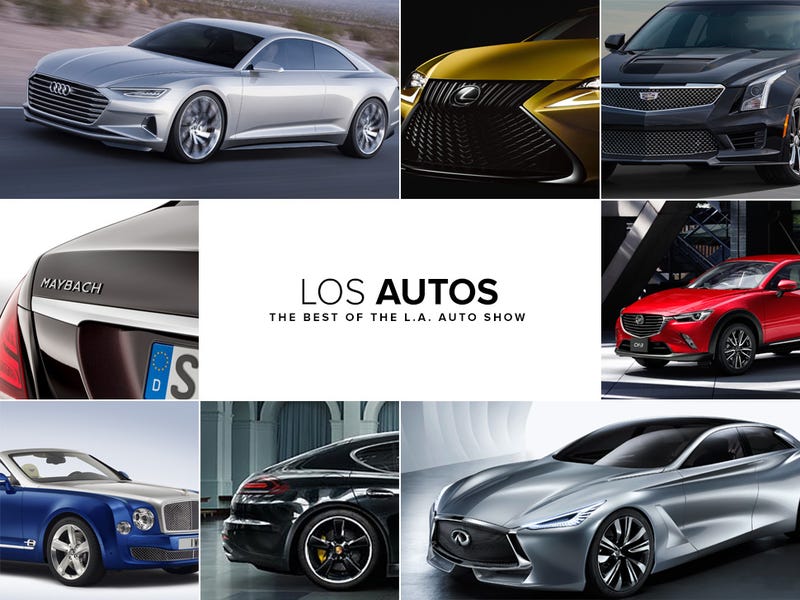 As I did for the Paris Motor Show, here is a quick re-cap of the 2014 LA Auto Show:
Photo credit to gearpatrol.com
Link/Original story credit to Autoblog.com

As taken from my post over at Autoblog We Obsessively Cover the 2014 LA Auto Show
Flash and Substance at LA this year again. The LA auto show has become so important and a real anchor in the industry as a whole: here is my take,,,
Toyota Mirai-moving beyond and to the next Prius? Very interested to see where this goes and how
911GTS-are there just too many choices in 911 variants now?
Mullen700e-I feel I should just send best wishes to the stupid
VW GolfR400-I swear I'm the only one who doesn't like the Golf at all in any form. I'll believe it when I see any of you driving it in the good old US of A
LexusLS-that ship sailed 4 years a go
Murano and Juke-different so I can appreciate them but this color thing is just bad taste waiting to germinate
Audi A7 H-Tron-I think I will be proved right in the hydrogen debate and we will see wide spread adoption in the near future
Chevy Colorado ZR2-the Raptor competitor that never materialized is now here?
Galpin Fisker Rocket-ummmm, really,,, this is what all the hype was about?
Jag F-Type manual and AWD-'manual' yeah! AWD why?
Chevy Chaparral-mega cool, make this work somehow!
Cayenne GTS-see the 911 post above
VW GoldR Variant-this I actually like, the idea that is
Chrysler 300-is it time to just take this back round the shed and shoot it?
MB S550PHEV-at least they are trying
Scion iM-a little boy racer 'ish' but not bad. Their customers wont buy it though
Acura ILX-'soulless and passionless'
Volvo V60 CC-Swedish for 'Tank', I like
Sponge Bob Sienna-truth in advertising, I appreciate this from Toyota
Hyundai Azera-may be old but now is the style leader in the family
PriusV-well at least there's some gaping Lexus mouth up front now
MB CLS63AMG-still a cool car
Fiat 500X-the 500L "KILL IT WITH FIRE NOW!" This I like though
MX-5 Miata-sorry the Miata, never call it the MX-5, looks great can't wait to drive one
Lexus LF-C2-honestly I'm not sure what to think yet
PriusC-well it's orange, that's cool
Quattroporte-the cool cats and gangsters choice, love it
M(no B) Maybach-curious on the name, both on what is there and what is not
Panamera Exclusive-I don't care how much $$$ you throw at it, it's still ugly
Audi R8Comp-still love the looks but always felt it never reached it's full potential
VW HyMotion-anyone willing to take my hydrogen bet?
Audi Prologue-looks great but not radical as I feel we were led to believe
Honda HR-V-you are going to start seeing these everywhere
Maserati Ghibli-proving to be a sales hit, good for good old Masi
BMW X6M-I still love this thing for some reason
Mazda6-best family sedan for car enthusiasts by far
BMW X5M-love the paint on the show car but somehow not as loved as the X6M
Bentley Convertible-you'll only see this with Florida plates
Ford Explorer-don't care
Mazda CX3-another styling home run for Mazda
Caddy ATS-V-as expected but it's a good thing
Ford Shelby GT350-I bash Ford enough so this time some praise, good on you for not just taking it and this time coming out swinging. Z28 has some competition?