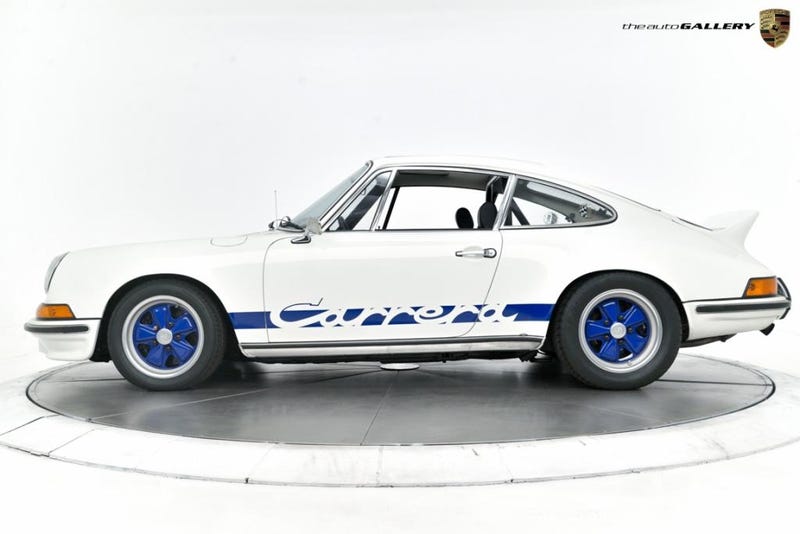 Don't get me wrong, I have no problem with replica's, but for Singer's sake, don't try and pass it off as factory options. This 1972 Porsche 911 Carrera S Coupe replica may be the most irritating example of misleading dealerships I have seen in a while.
Porsche prices have skyrocketed recently, as evidenced by a 911 2.7 RS selling for over $1,00,000 last week at Amelia Island. Some dealers appear to have noticed this and have applied their newfound knowledge on 911 pricing to their inventory. The worst offender I have so far found has been this dealer. They are attempting to sell this 911 for $169,000 which is a lot of money. Taking into account that 170k is a lot of money for a pristine 1972 911S, imagine how ridiculous it is to be trying to sell a 2.7 Replica based of a 911S for that much, and then trying to pass it off as factory installed options. For those who aren't aware, Porsche enthusiast are possibly the most anal of all the classic car enthusiast when it comes to originality. Porsche collectors are so insane when it comes to originality, a car that still has the original tool kit and drivers manual could be worth as much as 10k more than a identical car without. While I can not 100% assure you that there is no such thing as a factory installed ducktail for a 1972 911S, I can 100% assure you that this does not have it.
My problem with this car is the fact they are trying to pass it off as a factory modified car.
FACTORY SPORT SEATS, RSR ROLLBAR, BLUE PAINTED ALLOY WHEELS, FACTORY DUCKTAIL, SS BORLA EXHAUST - The Auto Gallery is pleased to present this outstanding 1972 Porsche 911 Carrera S Coupe with RS modifications and a 3.0 Andial Twin Plug engine with 5 Speed Manual Transmission. Finished in a Grand Prix White Exterior and Factory Black Leather & Cloth Sport Seats, this 911 Carrera S is one of a kind! This Porsche has been very well maintained, regularly serviced, and with only 15,227 original miles, it is in outstanding condition! In addition to its luxurious standard factory equipment, this 911 Carrera S boasts an extensive list of RS modifications that includes, Factory Sport Seats, SS Borla Exhaust, RSR Style Chassis Modification, Factory Ducktail, Bilstein Sport Shocks, RSR Rollbar, Turbo Brakes, Aluminum Trailing Arms, and much more! By just one look at this car you could tell that a lot time and craftsmanship was put in to replicate the great 911 Carrera RS of the time. With its Take advantage of this opportunity as this beautiful 1972 Porsche 911 Carrera S
Emphasis mine. Only once in the entire ad does it mention replica. It never really states its a replica. It never really states it isn't factory modifications. "RS modifications, Factory Ducktail" is very misleading. I contacted the rep and the conversation is as follows:
The names have been changed.
Chat TLDR; Guy knows its factory installed by owner, doesn't think it should be called a 911 Replica, understands that the art world values originality (lol wut) and has no idea if its the original engine or if its ever been tracked. To be fair, he said he'd get back to me, but he then ended the conversation. (He has since stated in an email "The engine is stock ..Not tracked ..." That is a direct quote)
The engine is obviously not original or factory, though I suppose it could be the original 2.2 modified to 3.0 by Andial, but I doubt it. I'm positive it has been tracked, or at least rallied in some form because it has 4 point harness (not factory installed or period). I'm also not sure those are actually Porsche sports seats, and if they are, they are not original or from a 2.7.This car isn't even a very correct RS replica
The guy seems sincere enough that he doesn't know what he's talking about, but it still bothers me that dealers try to take advantage of people like this. Its a nice car, its just not a nice 1972 911 Carrera S Coupe, especially not for $169,000
Its actually a shame, because if this car still had the original engine and didn't have all these modifications, it could easily be worth 170k. Right now though, anybody who buys this is a damn fool.