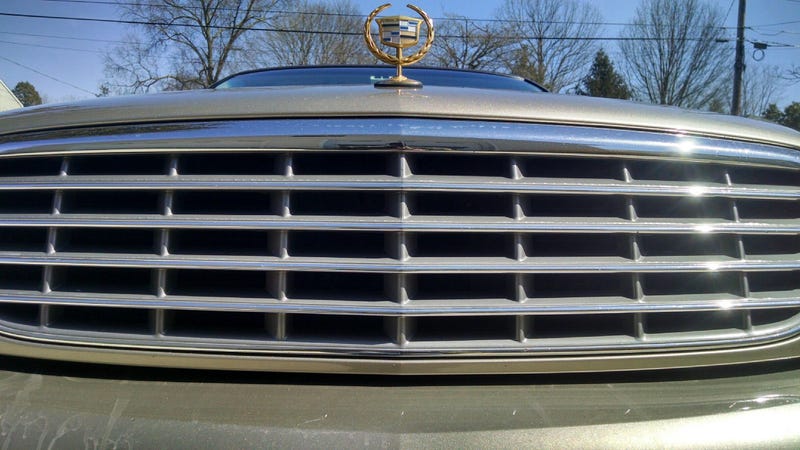 As a lifelong Cadillac fan, purchasing my first Cadillac was more of an event than just a used car purchase. After a 2 month search, I found one for sale locally, by a car flipper, and figured "what the fuck, why not?" So now let's see how good of a purchase I made.
(FULL DISCLOSURE: I find these disclosures fuckin' stupid, so let's just get on with the fuckin' review already. Oh, and this review is going to be biased as hell. And also I'm typing this whole thing up on mobile so if the pictures don't match up with the category, just deal with it.)
EXTERIOR- 65/100
The 1999-2004 DeVille/DTS/DHS was the first flagship under Cadillac's revamped "Art and Science" design language. I flip flop on my feelings towards it. While I love mine in all it's "guido dream car" glory (as coined by the pizza maker at my job) with its 16" American Racing Slices, E&G Classics "talisman" faux elk leather roof, gold badging package, and chrome fender arch trim, I will admit the DTS with its dialed back chrome and hood ornament delete wears the art and science look a lot better.
Mine, much like myself, has picked up some battle scars over the years. Its not perfect and I love it all the more for it
INTERIOR- 60/100
I'll admit, it's pretty basic looking, and I'd prefer some color, but it is plenty comfy, controls are laid out alright except for THE FUCKING VOLUME CONTROL which, when shifting from drive to park, I always hit, EVERY GODDAMN TIME, occasionally making some pee come out. But, it's put together nicely, there's no rattles or squeaks, the leather is soft and actually nicer than my couch, the deep pile carpet is nice, even if it does currently smell of wet dog from me working in Friday night's slush storm. I'm not going to complain about lack of "soft-touch plastics" because that's asinine, stop being a fucking child over a bit of hard plastic here and there.
In lieu of any gangster movie references, I will say the trunk on this thing is FUCKING CAVERNOUS.
ACCELERATION: 75/100
It has a 4.6L Northstar V8, which I'll explain further later in this review, propels the big bitch at a rather alarming rate when you mash the pedal. You don't really feel the speed, but watching the numbers go up that quickly on the digital dash is quite a thing to behold.
BRAKING: 60/100
The brakes on this are great. The tires, however, SUCK ASS.
RIDE- 95/100
Seriously this thing is smoother than my friend's '04 Bentley CGT in comfort mode. It's fantastic. They don't say "floats like a Cadillac" because it rides rough. Great job, GM. You weren't fucking around when it came to this car's ride.
HANDLING.
It's there. Kinda.
TOYS: 85/100
Trip computer with all the goodies, 10 way power driver and passenger seats, digi dash, 3 zone climate control, 10 speaker sound system, variable steering, continuously variable road sensing suspension, 3 ash trays and lighters, a plug under the passenger seat so you can charge your phone without taking up precious smoking space, automatic "twilight sentinel" headlights, and even an on board code reader, all standard on mine, a bottom of the barrel base model.
AUDIO: 100/100
and
GEARBOX: 80/100
I had to lump these two together, because as part of the "Northstar System" you really can't judge the motor and trans separately. The trans is GM's 4T80E, which is quite possibly the most heavy duty trans ever put in a FWD car. Seriously you CAN. NOT. KILL. a 4T80E. The longitudinal version, the 4L80E is what they put in their 2500 series cargo vans, Suburbans, and gas pickups. Now the Northstar, although trouble prone in it's earlier versions, continues to be one of my favorite powerplants of all time. I cannot state enough how fantastic this motor drives/sounds. Even Jeremy Clarkson had nothing but good things to say about it, calling it "an absolute gem" and saying "if alfa romeo, honda, and the London symphony orchestra got together, they couldn't make a motor sound this good."
VALUE: 100/100
For legal reasons, I have to state that I paid $2500. If that's the price, than $2500 got me a 2 owner, 55k mile, V8 Cadillac cruise ship, and that's fucking incredible. Although the $2500 price stated skews it up quite a bit, I can honestly say even if $2500 wasn't what it says I paid on the title, I'd have a hard time putting anything else. This car makes me feel like a million bucks, puts a smile on my face every time I drive it, and I'm often told no car suits me better. And that you can't put a price on.
But before we total it all up-
Everyone knows this car won't get a perfect score, you know it, I know it. But I didn't buy this car because I thought it would score 1000/1000 jalop points, I bought it because I saw something in it, something I can't describe. It spoke to me. I knew it would be my next car the moment I saw it. I love my Cadillac more than anything else I've ever owned, and I plan on keeping it for years to come.
TOTAL SCORE: 720/1000
2004 Cadillac DeVille Base
4.6L Northstar V8
275 hp, 300 lbs•ft
4T80E 4 speed auto, column shift
0-60mph: 7.2s
Top speed: 150mph
2 wheel drive, front
3978lbs
Seats: 6
16mpg city, 24mpg highway
Price when new: $45,600