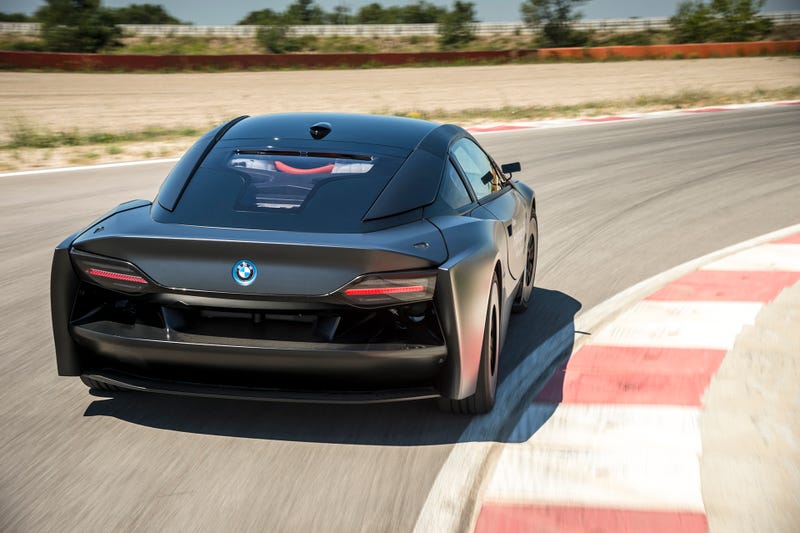 No more Porsche-like rear end! YAY!!!
Let's have a toast!
Just imagine BMW's legendary inline-six or an ex-F1 V10 in there.
I'm getting a 3.0 CSL or 2002 vibe here... with a mix of classic Mustang at the back.
That front overhang...
HUGE SPEED HOLES ON THE HOOD, BABY!!!
Now if only they resize the headlights to be like the kidneys, but reversed, like when you cut a rectangle diagonally. And they're circles inside.
You know what? Keep this body, though pump the fenders a bit. I want this to be the Mi8, with a naturally-aspirated inline-six (from the 1M or the M2), V8 or V10 being helped by a meatier version of the electric system, a quick yet swank manual as standard (dual-clutch paddles will be an option) and, please BMW, a bigger fuel tank and, most importantly, no electronic steering interference (an E-diff would be neat, though). Remember when Clarkson said: "To save the world, drive fast" in his review of the i8? Well, it's time BMW save the world some more. I'm guessing 700+ hp, same number of torques and 210 mph tops, with a 0-60 in 2.7 seconds.
Hell, if the M division smokes enough dope, they can make the M8. 5er underpinnings like the i8, V12, chance for a separate hybrid version.