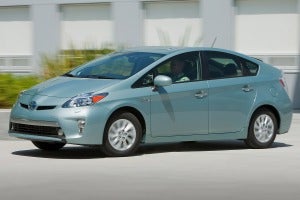 Hey there, y'all. As some of you may or may not know, Toyota has made a plug-in hybrid variant of its popular Prius hatchback since 2012. Aside from a few cosmetic differences, such as different rims, an exterior charging outlet, and a silver strip running through the car's rear badges, the Prius Plug-in looks the same on both the inside and the outside. Add a higher-capacity lithium ion battery capable of propelling this vehicle for over 10 miles on electric power and the ability to externally recharge this battery, and you have the Prius Plug-in. However, there's a big catch; it's only sold new in the northeastern and West Coast regions of the United States.
This is what brings me to my question. Why isn't the Prius Plug-in sold nationwide? I live in Georgia, which was one of the first states outside of the northeast and the West Coast to get cars like the Chevy Volt and the Nissan Leaf. Here in the Atlanta suburbs, both of these vehicles have a significant presence, especially since the release of the budget "S" trim Leaf for 2013. Though the $5,000 EV tax credit ended last week, it helped to contribute to the massive number of electric and plug-in vehicles on the roads here in my state. But a search for a new Prius Plug-in, using my Georgia zipcode?

591 miles away. At a dealership up in Maryland. Next closest one is 638 miles away in New York. Even with all of the large cities in between, the Prius Plug-in is still confined to the two geographic regions previously stated: the northeast and the West Coast. Other listings show plug-in Prii for sale in California, but I am yet to find them for sale new even in Oregon and Washington. Maybe when the redesign comes around, the Prius Plug-in will become a nationwide product.
Even with its higher price tag, the Prius Plug-in seems like a neat idea. It's kind of a shame that the only ones available locally (to me) are ones purchased from the Auto Auction Eastern Region, and they're pre-owned. Is there a reason that Toyota only chose those regions when selling the Prius Plug-in? I know that they have the highest number of regular Prius sales, but otherwise, the answer seems unknown to me. Thank you.

Picture (along with some info about the battery, etc.) courtesy of Edmunds.