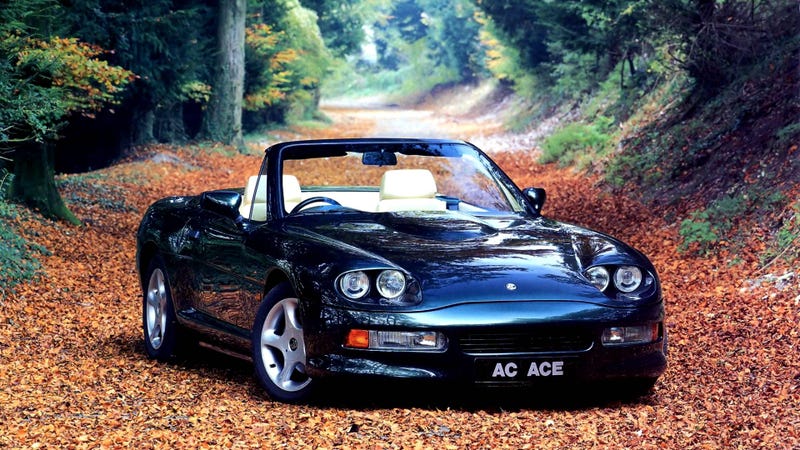 1993-2000 AC Brooklands Ace/Ace V8/Aceca V8.
Last night I told you the tale of how Jensen tried to reinvent themselves in the early 2000s with the S-V8 Roadster, an effort that seemed to fail miserably. While AC Cars is not necessarily dead (more on that in a second), they did briefly try to bring themselves into the modern age in the 1990s with the Brooklands Ace.
The Brooklands Ace was first previewed in the 1980s by the "Ace of Spades" concept, featuring a Ford 2.9L V6 and an all-wheel drive system, as well as a second prototype in 1991 with a different design by IAD, featuring a more traditional 2 seater roadster aesthetic. But it wasn't until 1993 when the public saw the final car, a RWD roadster powered by a Ford 5.0L V8, good for 225 horsepower.
In 1996, AC cars had gone under new ownership after 46 Brooklands Aces had been produced. The new owners decided to restyle the car a slight bit, as well as renaming it from "Brooklands Ace" to just "Ace V8." The engine choices were also updated: the 5.0 was retained, now sporting either 240 or 320 hp respectively, a 320 hp 4.6L Ford unit, and a 251 hp 3.5L Lotus V8 (fun fact: the 1999 show car had the Lotus V8, but they never got it operational, so they later dropped a Cobra V8 under the hood).
While the styling refresh showed some promise for the life of the Ace, production numbers unfortunately never picked up, with the total amount reaching approximately 58 in total until the car was discontinued in 2000. AC tried one last time by releasing a 2+2 version called the Aceca, but even that failed to interest perspective buyers.
So, where is AC today? Well, it seems like AC has become a bit of a Caterham, as they seem to still be making versions of the car that made them popular: the original Ace/Cobra. The MKVI was released in 2012, featuring a slightly modernized interior and a 6.2L Corvette V8.
They also seem to be giving the modern supercar race a shot once again with the AC 378 Zagato, released in 2012, featuring another 6.2L LS V8.
Information is kind of scarce on it, but they intended for it to be on sale around the world by the end of 2012, which I'm guessing didn't happen. So, you can mark it down along with the Brooklands Ace as another failure on bringing an old British brand in to relevancy.