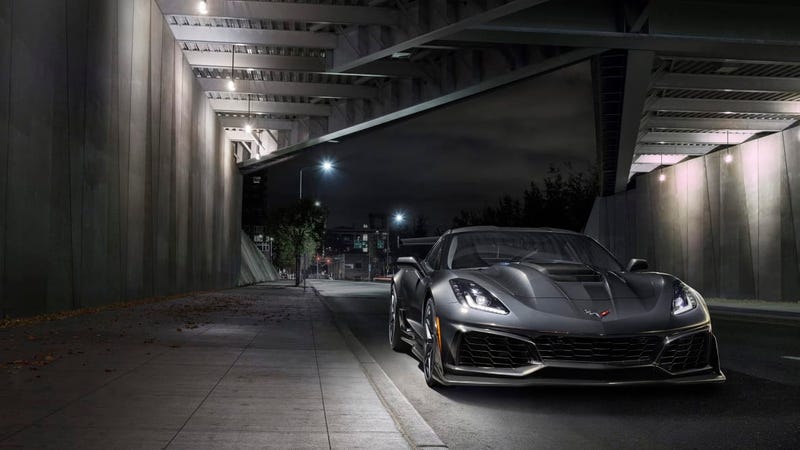 America's Supercar is way over 6 figures now and is ready to play with the likes of Ferrari, Porsche, etc.
As stated before, the coupe starts at $120,990. The convertible is an extra 4 grand.
As we all know, the 2019 ZR-1 is powered by a monster 6.2 L 755 horse supercharged V8 . You can either route that power through the standard 7 speed manual with Active Rev Matching or through the $1725 8 speed auto.
There are 2 trims: 1ZR and 3ZR. 1ZR is the base of course. 3ZR adds luxury items like heated seats, Nappa Leather surfaces etc. Choosing the 3ZR takes the price to $129,995 before any options. The car comes standard with wheels that honestly dont do the car justice and look cheap:
I choose the 1ZR because who really needs heated seats with almost 800 horses?
There at 10 exterior color choices and 3 premium ones that are all $995 bucks each. I choose the cool looking orange color that was shown when it debuted. Chevy calls it Sebring Orange Tintcoat. You can also get a Black hood strip for $500 bucks. There is one interior color choice as well: Black leather.
There's one option package: ZTK Track Performance Package. Its $2,995 and comes with:
Stanchion-mounted adjustable carbon fiber high wing
Michelin® Pilot® Super Sport Cup 2 run-flat, summer-only tires1
Performance suspension with specific shocks and springs
Removable carbon fiber end caps for front splitter (Coupe) (For track use only)
I added it of course because for something like this its a no brainer. Selecting this package requires the addition of performance suspension as well, which...should be on the ZR-1 to begin with.
There are quite a few exterior options. In addition to the terrible looking standard wheels seen above, there are 3 other wheels. I choose the Black staggered 19' front 20' rear seen on the Orange ZR-1 above for $595. These ride on summer only tires. There are 9 mechanical options. Of these I choose the 8 speed auto for $1795 (bad knees make manuals hard to drive for me sometimes) and Black break calipers. I found it weird that all of the brake caliper colors, 2, black and dark gray, are no charge, but red and yellow are $595 a piece.
There were other options like car covers and special gas caps, wheel locks etc. But there were 2 that stood out. The first is the Corvette engine build experience. For $5,000 you get to:
Hand build your engine at the GM Performance Build Center in Bowling Green, Kentucky, under the supervision and support of skilled technicians
A personalized nameplate will be added to your engine once completed
Requires a sold order
Customer will be contacted by a concierge from the National Corvette Museum to facilitate scheduling and logistics
I thought this was pretty cool and I would something like this. The other is the option for you to get a Corvette Museum delivery in Bowling Green. For a not bad $990 bucks you get to:
Take delivery of your new Corvette at the National Corvette Museum (NCM) in Bowling Green, KY
The NCM will contact you to schedule your Museum Delivery appointment and inform you of the documents you need at delivery
On your special day, you and up to 3 guests receive a VIP tour of the museum which includes seeing your new Corvette on display
You'll receive a delivery presentation, followed by a drive-off ceremony
A personalized plaque with your name and the NCM logo located in the front console area of the dash commemorates the Museum Delivery (replaces standard plaque)
Interior wise like I mentioned before, there is only one leather color. But you do have the option to either have the standard GT seats, or competition seats. I added those, which cost $1,995. Adding those seats required adding suede microfiber to those seats and the wheel, coming to a total of $2690. I also added the option of the 8' touchscreen infotainment system, which required the addition of a $1795 performance data and video recorder.
Skipping all the meaningless accessories like luggage, you're looking at a $130,000 Corvette. $129,065 to be exact. The 3ZR? Nearly $150 grand, maybe more depending on which options you choose. A lot of coin for sure, but considering the giant killing performance this thing should have, I think its a fantastic buy.