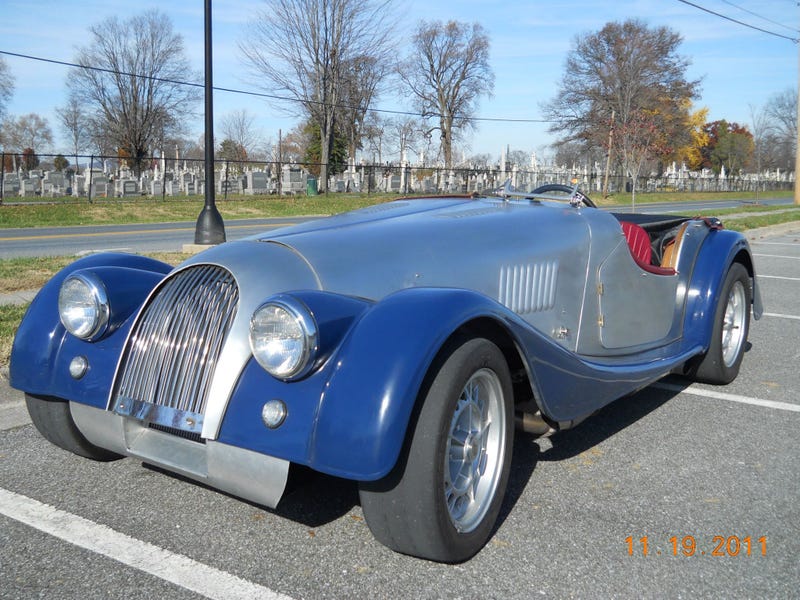 This is my old coworkers Morgan +8. He built it from scratch. This is probably the fourth one he has done.
Everything on it is custom. The fenders have been widened to accommodate the huge tires and the body is made out of aluminum instead of steel. And yes, he shaped the body panels himself.
Shaved A-008s on custom made Minilites, not the usual Panasport knockoffs.
Note all the aluminum. Cut and rolled by hand.

He sweats so many little details. Drilled out seat pan and titanium bolts. He used them everywhere. He saved something like SIXTEEN pounds. Note the notch in the seatpan to get some extra adjustability. Oh, custom stitched Connolly hides for the seats.
Wood dash of course made by hand. Custom Borg-Warner T-5. Note the speedo is in front of the passenger. Car was built for show/autocross.
He is a VW Beetle fan as well and is fond of the old roller ball accelerator pedal.
This picture is just to show his attention to detail. This is the routing from the fuel cell to the engine compartment. He could have drilled a hole and used a grommet and just run the fuel line. He puts a AN fitting in the firewall and starts again in the compartment. Clean. Tidy. I actually watched him make the wiring harness and do the blue tape by hand. For you British car freaks, he has a special jig for his mini vise so he can SOLDER all bullet connections before final assembly.
But this, THIS...my friends. 375 BHP at the wheels at 6,000RPM. The car weighs 1700lbs. I have driven this car on the street and on an autocross course. The acceleration is STUNNING.
Custom headers into straight pipes. You pull up next to a hot shot in a Mustang or Camaro V8 and rev this thing and the just shake their head in awe. Nobody ever takes a chance.
Again, attention to detail. He was throwing alternator belts at redline, so he installed a serpentine belt arrangement to run everything. Yeah, he polished everything.
More details. Panhard rod location. You see this mod a lot on vintage cars.
This is an earlier project he did. An AC Aceca. The Aceca is the hardtop version of the AC ace, upon which the AC Cobra was based. So he decided to make an Aceca Cobra. Same setup, Borg Warner T-5, Cobra crate engine, etc. Instead of the race interior he went with the full leather interior (hand stitched again). I last saw this one for sale 5 or so years ago for around $90k.
And yes they get driven HARD.
The madman himself is on the left, Rich. His buddy and co-driver Larry on the right. Both Nam vets. Do NOT let the Coors light and beer gut fool you. Larry's father owned a Triumph dealership in the 50-60s and dude has been racing since before most of us were born. Stig level skills.