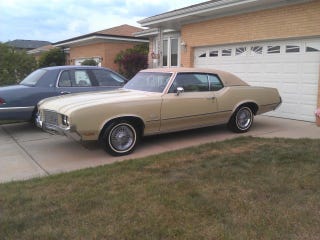 1972 was a sad year. It was the last year that GM A bodies would look good, and performance numbers were in the early stages of a downward spiral. It was clear the muscle era was coming to an end. That's why this car just rage quits and says to hell with it. It doesn't try to be a muscle car.
It could be a 442, but what's the point. Muscle is dead. 442 didn't even stand for performance like it used to. No fastback, give me a formal roofline. No big block, a small block with single exhaust will do just fine. Buckets and a console? No thanks, I prefer comfort. If you wanted a sporty good looking A body, but also wanted a bit of Cadillac luxury, then the Oldsmobile Cutlass Supreme is the car for you…
(Full Disclosure: This car was built before my parents even met, and 14 years before I was even born. There is no way Oldsmobile could have bribed or swindled me into writing this review because they can't profit from this car anymore. Hell, the whole brand doesn't even exist anymore.)
This 1972 Cutlass Supreme was one of the many A body variants offered by Oldsmobile in 1972. In addition to the formal roofline of the Cutlass Supreme, Oldsmobile offered both hardtops and sedans in 2 door fastback and 4 door configurations, as well as a convertible and 2 different wheelbase wagons. This Cutlass Supreme falls somewhere between basic transportation and luxury. This is a grown up car.
It is your favorite uncle at a wedding. He's still cracking jokes and sometimes a bit crude, but he sure cleans up well. He is dressed to meet the minimum requirements for the occasion. Likewise, this car is not flashy. It does not have all the bells and whistles, but it does have just enough to let you know it is in fact your father's Oldsmobile.
Exterior: 8/10
This Cutlass Supreme has a more formal "notchback" roof line compared to other 2 door Cutlasses. The roof is covered in a vinyl top which has a somewhat coarse, almost alligator, texture. After seeing other Cutlass Supremes without a vinyl top. I'm glad mine has one. It really adds that certain something.
The front end is sculpted and proud. The lines in the hood carry through to the grille. The pre 5mph steel bumper compliments the front end. There's something about the shape of the bumper that makes it look good in chrome, as well as painted to match the body. Painted bumpers were not offered in 1972, however. The front fenders sweep gracefully into the doors.
The trunk lid slopes down lower than you would expect. That is partially due to the fact that it is nestled in between the some subtle fins at the corners. The rear taillights are integrated into the bumper. Exhaust cutouts were available on 442 models. The fuel filler is behind the license plate so you never have to navigate a gas station to be on the right side of the pump. You just have to pull ridiculously far forward.
Emblems and trim are in the right places. If I were to go back to 1972, I might find a different way to put Oldsmobile on the trunk lid. As it is right now the text is broken up by the keyhole to open the trunk, so it almost reads as OLDSM OBILE.
The car came with Olds ralley wheels, but I bought the original wheels and hubcaps from the previous owner and put them on this past summer. White walls and spokes scream 1970s American luxury. This is a time when spokes and white walls weren't just acceptable, they were still cool. They suit the car much better. After all, it is not sporty, so why pretend with the wheels.
Interior: 8/10
Those seats… Remember your grandma's couch? Yea, basically the same thing. Paisley, plush, springy, and slippery. It is the 1972 American interpretation of elegance that you could only get away with back then. They offer no support unless you are sitting still. Oh, and I hope the front passenger(s) aren't terribly taller than you. It's a bench and it all moves as one. But still, they are pretty cool and rare sight these days.
The materials aren't up to today's standards, but they have held up quite well over the years. The fake wood trim is fairly convincing on the dash, less so on the door panels. The seatbelts are two-piece; the shoulder strap is separate and is located on the ceiling.
This Cutlass Supreme does not have a rear defroster, power windows or locks, cruise control, tilt wheel, power seats. And no clock, which is fine because then I get to joke and tell people the car is timeless. Har har…
There really aren't a whole lot of features, so it's hard to mess up the layout of the interior. Let's put it this way; you won't spend time searching for buttons. You also won't spend time looking for gauges either. Dummy lights will let you know if anything needs attention.
Outward visibility is fine. AC works great in the summer, but you can feel it bog down the engine. The vents are placed fine. But there are ones that will blow air right at your crotch.
Acceleration: 5/10
It's pretty alright. Not gunna make pants drop, but not dangerously slow either. It is enough off the line. After first gear, it takes its time. What's the rush? The original driver was probably more concerned with getting home to chase the kids off his porch than he was challenging the chap next to him at the red light to a sprint to the next red light. The engine is rated at 180 SAE net hp. Luckily the Rocket 350 still makes torque, so it's no slouch. These low numbers are courtesy of the more accurate net (vs gross) ratings and some early emissions control junk. Power to both rear wheels would help a bit, too. The V8 still produces enough torque to spin that one tire for a while, so more grip would help. Supposedly letting the Olds 350 breath via headers and dual exhaust really wakes it up. But I'm keeping it stock.
Braking: 4/10
Well, I've never rear ended anybody… It has power assisted 4 wheel drum brakes. The brochure touts the fins they added in 72 for better cooling, and even brags that they are 4 pounds heavier. Speaking of cooling, they tend to bite hard and pull a bit when cold. And when hot, they can be unsettling. I've never had to make a panic stop, but I'm sure they will lock up on you. I have made some hard stops with no trouble though.
Ride: 8/10
Wear your pajamas. You might fall asleep. Everything is plush and smooth. Even the pedals and steering wheel are easy to operate. The exhaust note is quiet, but the sound of the secondaries opening up is glorious, even on the stock Rochester. Road noise is surprisingly low. Wind noise is definitely there at highway speeds since this thing cuts through the air like PlayDoh through steel.
Handling: 2/10
Handling? What's that? This car isn't very heavy, but it sure feels like it. Body roll is almost comical. You can wiggle the wheel left and right and the car will just rock without changing direction. The car will change direction more if the solid rear axle goes over some staggered bumps. The cruising comfort oriented suspension only let's you know you rolled over a bump by transmitting the sound of those bumps into the cabin. Be prepared to use the door or arm rest as your lateral support if you need to take a turn quicker than normal. I give this car a 2 and not a 1 because it does steer, you just get thrown around if you have to do it in a hurry.
Gearbox: 5/10
It does the trick. GM used this solid transmission in anything and everything for ages. The shifts under normal driving conditions are smooth and timely. Not lightning fast, but they don't leave you waiting for the next gear. The ratios are adequate if you don't go much faster than 50. After that, you start wishing for at least one extra gear. Having only 3 speeds to choose from means the transmission is not constantly trying to find the right gear.
Audio: 3/10
By today's standards, it's awful. AM/FM stereo with the minimum number of speakers required to be stereo. Two; one in the center of the dashboard, and one in the rear passenger side package tray. No seek, no scan. All you get is five presets, a front to rear balance, and a tone control that at one end has no bass and at the other end has no treble. Thank god I at least get FM. The panel with the numbers for FM frequency/AM amplitude flip like a James Bond license plate when you switch between FM/AM.
Toys: 2/10
It's hard to say; things that were considered "toys" back then are just expected these days. It's got bumper guards on the front. The remote driver's side mirror and passenger side mirror were both optional. Trunk release in the glove box, which is apparently rare. Trunk light…
Value: 5/10
When new, I suppose it was priced fairly. More than a Chevy, but less than a Cadillac. Used? They can make great cars to enter the classic/muscle crowd at pretty reasonable prices. The seller was asking $12,500 about 10 years ago and nice examples can still be found under $20k these days. I think they are a bargain now compared to other cars of the time.
50/100
Engine: 5.7L V8 (Rocket 350) 4 barrel, single exhaust
Power: 180 HP
Transmission: Three speed automatic (TH350)
0-60 Time: Quick enough
Top Speed: 120 mph (then I got scared)
Drivetrain: Front engine powers only one rear wheel.
Curb Weight: 3,820lbs
Seating: Up to 6 classy people
MPG: OK City/Not too bad Highway
MSRP: Around $4,000 new? (As purchased 32 years later $10,500)