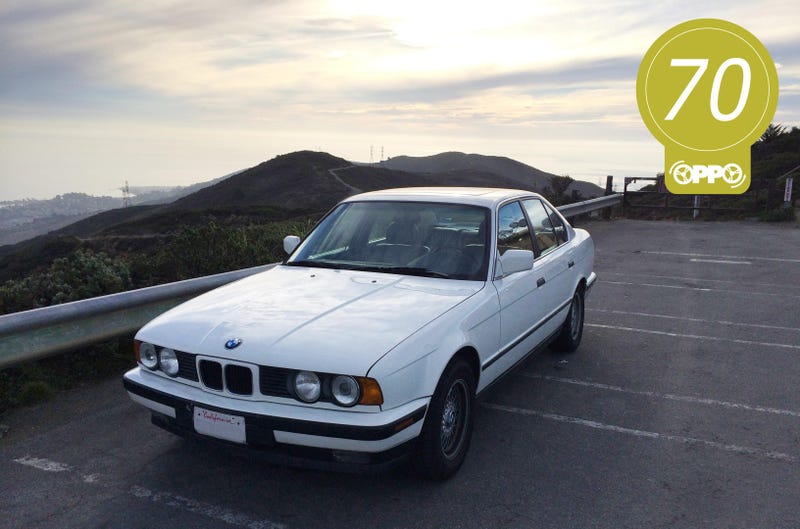 Introduced in 1988, The E34 was the third generation of BMW's 5 series, and depending on whom you ask, was one of the last generations of what could be considered "classic" BMWs. How does it stack up now more than a quarter century later?
(Full Disclosure: I wanted to drive a BMW E34 so badly that I went out and bought one for myself.)
If I had to sum up the E34 in one word, that word would be balance.Everything about the car provides luxurious comfort with a sporty edge.
Exterior: 7/10
The E34's exterior strikes a balance between sophistication and aggression.The long hood, short deck proportions, flared wheel arches and overall stance give a sporty edge, while its clean, minimalistic lines give an impression of class. Plus, I'm a big fan of its classic rectilinear grill with round headlights.
The E34's design has held up well and still doesn't look dated even today, this is helped by the fact that E34 is free from the 5 MPH bumpers that gave US cars massive underbites in the 70's & 80's.
Interior: 8/10
The interior is everything you could want in a luxury sedan, lots of leather and quality plastics, touchpoints feel solid and well made. Controls are easy to reach and intuitive to use.
The leather seats are well cushioned and comfortable, there's enough bolstering to keep you in your seat during spirited driving without being to intrusive. The leather wrapped shift knob and steering wheel are a pleasure to operate, and the center console tilted towards the operator reminds you that this is a car that puts the driving experience first.
Acceleration 6/10
Power from the 3.4 liter inline-six is far from blistering but the car never feels sluggish, there's plenty of juice for getting up to freeway speeds quickly and making passes.
Delivery is smooth as you would expect from a straight-six, and the engine revs freely up to the redline, with the real meat of the power band coming in at over 3500 RPM.
Braking 6/10
Good pedal feel with a nice linear progression, the brakes do a good enough job to stop the car without any drama.I don't know how they would hold up to a track day or an autocross event, but I've never had any issue with them even after spirited drives through back roads.
Ride 8/10
One of the most comfortable rides of any cars I've driven. It soaks up the bumps and potholes of the poorly maintained San Francisco roads with aplomb and eats speed bumps for breakfast, all without feeling floaty or disconnected from the road.
Handling 7/10
The suspension feels composed even under hard cornering and inspires confidence to bring a little extra speed into the turns, though there is some body roll.
The steering is a bit light but it has a nice directness to it and never feels vague.
Gearbox 7/10
The fact that it actually has a manual scores it a lot of points right of the bat.The gears are easy to find and the shifts are smooth, but the throws are on the long side, even at 6'2" I have to lean over a little bit to get it into 5th. The clutch is similar in that it's easy to use with a gradual bite point, but the travel is quite long.
Toys 4/10
No infotainment, no blue tooth, no dynamic suspension settings; by today's standards it's practically an economy model. It does however have power seats, power locks, power sunroof and a trip computer, which I've never used since the display was burned out when I bought the car.
Audio 6/10
The stereo sounds good but is nothing terribly impressive; the interior is rather quiet with minimal road and wind noise.
The engine and exhaust lack any romance but they let their presence be known under acceleration and don't drone while cruising.
Value 10/10
If you want to buy a BMW on a budget you be hard pressed to find a better deal than an E34. They're dirt cheap now having hit the bottom of their depreciation curve, but they're still plentiful and not really old enough yet to be considered a classic, so the prices haven't started going up yet.
It's relatively easy to find well-kept examples since the E34 is not particularly popular with the types of folks who abuse their cars, and you can even get a 540i with a V8 and 6-speed manual.
70/100
Engine: 3.4 I6
Power: 208 HP, 225 lb-ft of torque
0-60 Time: 7.0 seconds
Top Speed: 147 mph
Drivetrain: Rear-wheel drive
Curb Wight: 3527 lbs
Seating: 5 people
MPG: 14 City/21 Highway (EPA Estimate, I average about a combined 14)
Photo credits: me.