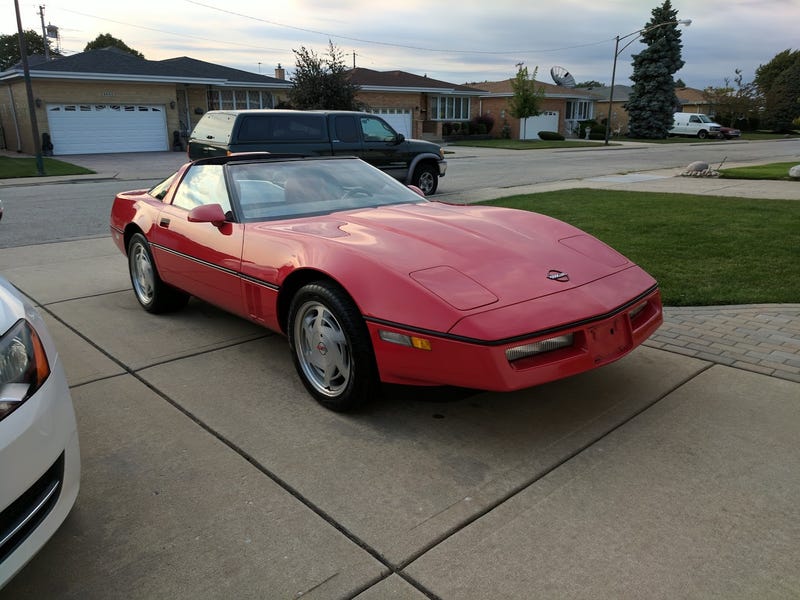 Ah the 80's... They only come around once every 100 years. But you know which 80's I'm referring to. And if you're old enough to remember the 1880's, well, you'll probably be more interested in my previous Oppo Review.

1989 was the last year of the 80's and the 90's were just a year away. By 1989, just about everything had been influenced by turbo or digital or blocks or wedges. This car has just about everything 80's but the turbo. But that's ok. You don't need a turbo when you have a Chevy small block.
The C4 was about as big a leap forward over the C3 as the C7 was over the C6. With power numbers still low, the engineers of the C4 focused more on handling. The car was lighter, shorter, wider, and had new composite transverse leaf springs front and rear. So much of the car was new that they actually had to skip the 1983 model year and debut the new car as a 1984 model. The only major elements to my knowledge that carried over from the previous Corvette were an improved L83 and 4 speed automatic. Thankfully the L83 was gone the next year.
Exterior: 9/10
This is generally what many people will think of when they think Corvette. Long hood, short rear deck, wedge, with a bubble rear window. In my opinion, circular tail lights are what every Corvette should have, and the pop up headlights are an added bonus. The shape is so "Corvette" that it only says Corvette once on the exterior, twice if you don't remove the front panel to mount a front license plate. The only other markings on the car are two Corvette flag emblems, and "TUNED PORT INJECTION" in the molding above the vents.
The styling is not overly done. It is very clean in way that there really isn't much to age. It is a more subtle interpretation of the C3. The hood has a modest cowl and it bulges up ever so slightly over the wheels. Vertical vents are located behind the front wheels, and again are subtly done. The rear bubble window is frameless and the A pillar is blacked out. Both minor details that provide a clean look.

The wheels are perhaps the only allusion that the 90's are right around the corner. And the fuel filler is located in the middle of the car, which means it doesnt matter which side of the pump you are on as long as you pull far enough forwad.

The thin black moulding that wraps around the entire car is reminiscent of its contemporary sports cars from Ferrari, Lotus, and BMW. I personally think the C4 has gotten better looking with time, aging as well as its European competition, and better than those from Japan.
Interior: 8/10
I can turn the gray sky blue... And I CAN get next to you! But only you. This car seats a grand total of two (safely). The transparent removable roof panel is awesome. It lets in a lot of daylight. Simpler than a sunroof or convertible, but almost as open as a convertible. I can remove it by myself and store it in the trunk in a few minutes.

The dash screams 80's. 1989 was the last year you can get this boxy digital 80's interior, but also the first year for the ZF 6 speed, so it's a one year combination. Prior years had the awkward 4+3 manual, and later years had the curvy 90's dash. Footwells might be a bit narrow if you're a taller person or driving in work/snow boots, and they're even narrower for your one and only passenger. The base seats are deep, well bolstered, and quite comfortable. I would imagine the sport seats with more adjustments would be even nicer.

Airbags were still a year away, but at least your passenger gets that block of foam to hit their head on in the event of a crash. In general, the materials a bit sad. The cupholders suck for modern beverage vessels. You have to slightly deform most cups to get them to fit, then they're in the way of 5th gear.

The controls are sort of awkwardly placed. Your drink and the shift lever also block the otherwise nice and simple climate controls. Seat, mirror, and window controls are on the console. But wiper controls are on the door? Sure, ok...
Cargo space is surprisingly adequate for a good haul of groceries. It also has a cargo shade, a place to store your roof panel, and theres little cubbies under the rear floor.
Acceleration: 8/10
The numbers don't sound too impressive: 245hp, 340 lbft, and depending on your sources, 0-60 in high 5's to low 6's, and quarter mile in high 13's to low 14's. Mine is an early 1989 model which used a slightly sprintier 3.54 limited slip rear end than the later 3.33, so I'm hoping it would run closer to the quicker end of these numbers. In its day it was pretty quick. Still adequately quick by today's standards, but there are plenty of newer regular cars that will embarrass you to 60mph.
But this car is light, cuts through wind, and has torque and gearing to its advantage. It will still pull well enough past 75 that triple digits sneak up on you too easily.

Braking: 9/10
The pedal has a good firm feel that lets you know how hard you're stopping not by how far your foot has travelled, but how hard the pedal pushes back. It has ABS and stops are nice and straight.
Ride: 8/10
I quite like the firmness of the ride. Firmer than my 2010 Camaro SS and quite the contrast to my 1992 Grand Marquis. But I'm sure many would consider the ride a bit harsh even if they don't drive a Grand Marquis.

Handling: 8/10
Joke all you want about transverse fiberglass leaf springs... Corners great. Stable at high speeds. You hear the bump then feel it at a very predictable short time after that lets you know how to react, if that makes sense. The back end will controllably wiggle if you want it to.

Gearbox: 9/10
The ZF 6 speed is the gearbox to get in a C4. The available ratios are well chosen, such that you never need all 6 of them and when it comes time to upshift you can chose one gear to keep in the power band for a sporty feel, or a higher gear to cruise gently. Shifts are smooth and the lever is placed quite close to the steering wheel. Even in 6th gear I can have my thumb on the steering wheel and little finger on the shift lever. Clutch has a very nice linear feel that doesn't require so much effort that it counts as leg day, bro. If it were an auto, you wouldn't necessarily need the parking brake, so I'll mention it here. Because of its location, you can put it down once it is engaged, otherwise it would be in the way when getting in and out.

Audio: 8/10
The original radio would have been good for it's time. I have a hard time liking aftermarket radios. I'm not exactly sure why the previous owner changed it, but I will admit it now that it's there, it is a huge functional improvement. Bluetooth for music and hands free calls, upgraded speakers, station info read outs, highly customizable equalizer, and most importantly to me, you can at least change the color scheme to closely match the other instruments on the dash. By today's standards, there's a bit much transfer of exterior noise into the cabin, but I'm ok with that.

Toys: 10/10
For one, the whole car is a toy. A light-ish, V8, stick shift, rear wheel drive, somewhat-open-air, low ridding, snug sitting, super 80's toy. Plus this dash! So, in the picture above, those switches in the box above the radio control the read outs in the corresponding quadrants of the upper middle of the gauge cluster pictured below. Plus bar graphs for speed, RPMs, and fuel.

It's like driving KITT or the Delorean time machine from BTTF. It is such an old idea of what the future would be like in a charmingly wrong-in-retrospect way. I love it. And unfortunately that was lost/not taken further with the refreshed interior the following year.

It also has a lot of the Z51 features such as heavy duty radiator with cooling boost fan, oil cooler, and performance rear end, but the more butt friendly springs and sway bars. I honestly am ok with the base suspension as it is already plenty firm and fun through corners.
Value: 9/10
The Corvette has always been the "I can buy that someday" high performance car. It was relatively cheap when new compared to the European offerings, and competitively priced with the Japanese offerings. These days, C4s are an amazing bargain. Mine is mechanically sound and has the expected minor cosmetic flaws that will come with a 120,000 mile GM product from the 80's. But I still paid less than $6,000 and cost of ownership so far has been very affordable.

86/100
Engine: 5.7L V8, L98, Tuned Port Injection
Power: 245 HP
Transmission: ZF S6-40, 6 speed manual
0-60 Time: 6 seconds, give or take.
Top Speed: 150 mph
Drivetrain: Front-mid engine, rear drive
Curb Weight: 3,263 lbs
Seating: Anywhere from 1 to 2.
MPG: Ugh... I'm averaging 12.5 with mostly city rush hour traffic.
MSRP: $33,000 new, as bought in 2017 $5,600.