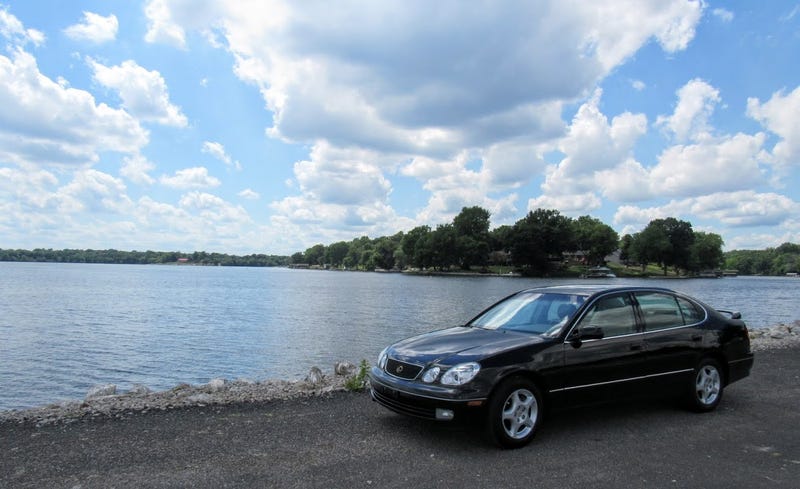 Lexus' are supposed to be all that, and then some. They're supposed to be comfortable, have a hint of sportiness (at least for the GS), and last forever. So how is my GS300 after owning it for 1200 miles and almost 4 months?
(Full disclosure: Lexus wanted me to drive the GS300 so badly they had someone in Minnesota lease it and sell it to another person in Peoria, IL. They then traded it in for a Chrysler after putting 230,000 miles on the car, and then the dealer sold it to the used car lot across the street, who in turn failed to sell it for $4500 and sold it to me for $2900 after tax, title, and fees.)
For those who don't know, the GS stands for Grand Sedan, which it really isn't. But don't tell Lexus. It leans towards the comfort side of the luxury-sport spectrum. Mine is the GS 300, the 300 denoting the 3.0L straight six, better known as the 2JZ-GE. It also had the 400 version, which had the 4.0L 1UZ.

Exterior: 5/10
It's not exciting, and I won't pretend it is. Also, the quad headlights can turn some people off. Personally, I don't mind them. I really like the look of the rear 3/4 and the side profile. A consensus among my friends is that it looks much newer than it is. Most guessed it was from 2005, not 1998. So I'd say that's a styling win for Lexus.
Interior: 7/10
This is where the Lexus roots shine. To me, the steering wheel design is great, and the deeply inset gauges look good and are practical, as they don't get washed out by the sun. There's minimal chrome, which I like. It's incredibly well built, with only one occasional rattle from the sunroof. Only downsides are the taupe secondary color is very '90's and the cupholders are too small for the typical American big gulps.
Acceleration: 4 or 6/10
The key factor here is my favorite feature of the car, called Power Mode. It increases the amount it revs before shifting, sharpens the shifts, and makes the transmission much more willing to downshift. When in normal mode, or Comfort Mode as I call it, the focus is on comfort. It has a smooth, linear acceleration that's adequate for most. I, however, like to get to the speed limit quickly. If you put your foot in the pedal more than a quarter of the way, it will downshift at least one gear, if not. When in power mode, it will definitely get you in trouble if you don't pay attention.
Braking: 4/10
It stops, which is an improvement over my last car. It will need new pads in a few months, so it's not the greatest. And the ABS might be a little broken. Maybe.
Ride: 8/10
To me, it seems to be that perfect in between of comfort without seeming boat-like or soft. At normal speeds, body roll is minimal.
Handling: 6/10
Even with 262,500 miles on the ODO, it's taught and not sloppy. It's direct and reacts well.
Gearbox: 7/10
Overall, acts how you'd want it. In the aforementioned "comfort mode", it's super smooth and mostly unnoticeable. In Power Mode, it is eager to downshift and hold the gear longer, allowing you to get it up to 5 or 6k without much difficulty. Downsides: "comfort mode" makes it reluctant to downshift at all and power mode is potentially a little too willing, for example dropping 2 or 3 gears when you only wanted to drop one. I'd prefer paddles like they had on later models.
Toys: 9/10
My specific car is as loaded as a 300 gets. It has the high-end audio, the touchscreen, and power everything. Yes, I said touch screen. Despite being from 1998, it works really well. My only complaint is screen can washout in direct sunlight. It also has dual power seats, all one touch windows, a power moonroof, heated front seats, power telescoping steering wheel, memory driver's seat, and automatic dual zone climate control. All in a $2500 car from 1998. I'd say that's pretty good. Oh, and it has driving modes before it was cool (Power, Comfort, and Snow).
Audio: 7/10
The stereo rivals modern systems and is overall impressive. The exhaust note is ok, could be better if I didn't have an exhaust leak. But once you hit 4.5k, the 2JZ really sings.
Value: 8/10
This is a lot of car for $2900 after taxes, etc. I should note that I have had or wanted to do a few different repairs (battery, camshaft position sensor, timing belt, costing $165, $550, $712, respectively). However, even after all that, I'd still consider a great deal. It has loads of luxury and it's CLEAN. It's not beat up or abused. It's also got full dealer service records on Carfax, so it's obviously been babied.
Total: 67/100
That's a pretty good score. Granted I'm rating relative to price, not relative to all cars. While it has given me some headaches, it's been a great car overall and I don't regret buying it.
Engine: 3.0L straight six
Power: 225 HP
Transmission: 5-Speed Automatic
0-60 MPH: 7.5 seconds
Drivetrain: RWD
Seating: 5 people
MPG (EPA): 17 city/23 highway
MPG (observed): 15.5 city/24.3 highway
Notes:
Great turning circle consider its size+age.
Back seats are very cushy.
Fronts seats are very comfortable but offer little lateral support.
Trunk appears smaller than it is.
It has a fullsize spare on a matching OEM rim.
Could use another gear or two to get better MPG.
Very quiet and comfortable.
Only has 4 cupholders.