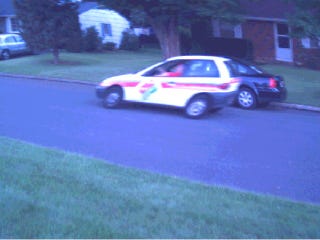 These were some pictures I took on a 1999 Jam Cam 2.0 around 1999-2001. At it's max image size of 640 x 480, it could hold 8 photos. I was 6 at the time. Maybe someone can positively identify this first car, but I believe it's a Daihatsu Charade (it's not, it's a Geo Metro)
This old Chevrolet Citation was looking pretty bad in 2000. I have no doubt that somewhere in the 15 years that have passed since, this Citation is long gone.
Last, but not least, is this G-body Buick Regal.