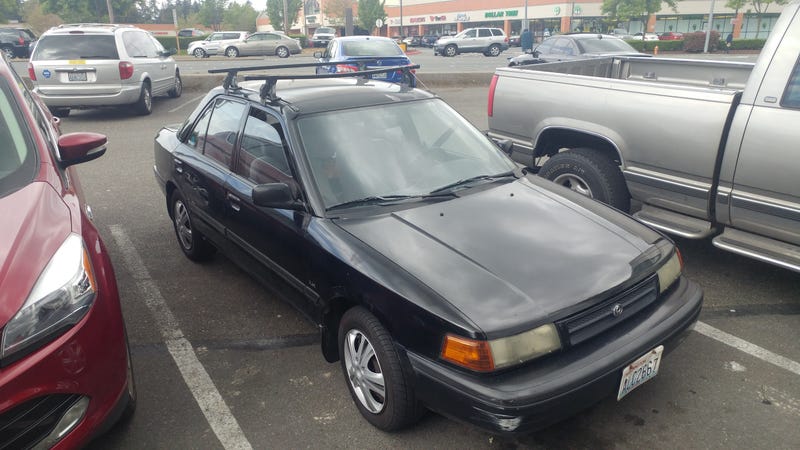 Picked up a 93 Protege lx 1.8 DOHC with 265k miles (!). Runs strong, gearbox and clutch feel great, most power options and heat work great. But some old car problems...leaks oil, noisy wheel bearing, loud muffler, driver door window motor shot. It needed a passenger cv axle before i could drive it home (it had fallen completely apart). A friend helped with that right on the side of the road which went well once we got the correct part. Will be fun to wrench on and zip around town with.
Since i dont have unlimited space nor funds i am also thinning the herd.
1 - The Saab 9000 turbo 5 speed is gone. I just never made the time / money to mess with it. It may have needed a turbo and the body work was worse than it looked. I figured better to move on before it deteriorated.
Got lucky and found a guy who owned one before and was motivated to take it on. He showed up in a mid 80s 528i that he converted to manual (!) So i knew he was perfect for it. Lost a few hundred on it but at least its not getting parted. Hes already put it in his name and hopefully he will send pics and updates.

2 - i sold the el cheapo automatic 2000 protege i mentioned in a previous post to a friends sister. I broke even on it after the repairs (coil packs, trans mount, new passenger rear door, battery tray, airbox and filter). It made me really like the Protege platform. Good engineering.
Next to go: my 95 probe gt 5 speed? Anybody interested in seattle area? 99000 miles . sunroof. Full power options including driver seat. runs and drives well. Passed emissions. New hatch struts. New front brake rotors and pads. Recent clutch slave cylinder. Mustang 16" wheels. Kenwood mp3 cd player with usb and aux.
Issues: cracked windshield. ac blows warm. Clicking cv axle and one noisy wheel bearing. Rebuilt title due to side swipe accident by PO. could use better repaint of bumper and door. I also swapped in a junkyard black hood for the rusty bondo'd mess that was on there so it doest match. Sorry cant find photo of front with hood. Make me an offer.