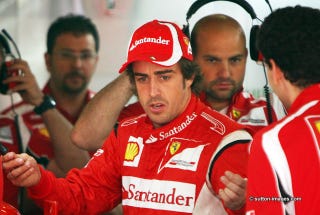 Do you really think this is going to fly? Would Kimi accept a role as a second driver? No. Can Alonso deal with a competitive teammate? No. Can Ferrari operate without favouring one driver? IMO, no. So what's going to happen? What about Alonso leaving the team?
Now, this is pure speculation on my part but we have not yet heard Alonso speak about his new teammate (I just checked his Twitter) and it wouldn't be the first time Ferrari have bought out one of their drivers. The last one? Oh, right, Kimi...
Now, of course I know Ferrari loves Alonso. He's their man and has been for 3 years now but Fernando is growing increasingly disgruntled with the team's performance, or lack thereof. He has been driving brilliantly in what has not been the fastest car for 3 years. He came very close to the title in 2010 and 2012, only to be foiled by the speed of Vettel and RBR. So Fernando has a reason to leave, but...
Where would he go? IIRC, RBR, McLaren and Mercedes all have their cars filled for next year (correct me if I'm wrong) so that leaves us with? Lotus, [essentially] the team Alonso won two championships with. Is this a feasible option? Do Lotus have the resources to have a sufficiently competitive car next year?
Barring the tossup that the changes in the regulations are going to provide next year, I think they do. I think that if Alonso does indeed leave Ferrari, he could end up at Lotus.