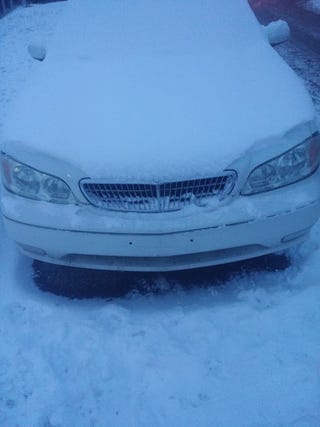 First off, this isn't a full-scale Oppo review. I haven't put enough seat time into the car yet to do one. But, I've driven it about 50 miles myself, and it's seen a total of almost 250 miles since purchase between going to the inspection station, to the shop to get the new parts put on, testing/flogging, and actual normal use.
Now, as I've stated a few times, and then some, I bought this car in February, for the paltry sum of $800. Not too bad for a 15 year old luxury car that competed with the BMW 3-series and Mercedes C-class. Now, it may not have all the features of those cars, or 100% of the refinement, but it offered similar size, styling, and power, and a comparable, but slightly lower price point. My car has, as of this morning, just over 249,900 miles. It had 249,686 the day I bought it. At the time, it needed the following:
Tires (an extra set of four came with the car, for free, and they had almost full tread left)
Battery (first thing replaced) ($105)
Muffler (new one has been put on, the old one broke into several pieces upon removal) ($66)
Tie rod end (replaced) (can't remember price)
CV boot (replaced) (less than $20)
Control arm bushing (replaced) (less than $10)
Radiator core support (fixed and welded into place) ($0)
Brake rotors turned (done) ($0)
Side marker bulb out (purchased today but not installed yet) ($0)
Faded headlights (cleaned and brought up to par) ($0)
Front-end alignment (being done today) ($50 max)
Spark plug and/or ignition coil for cylinder 2 (still needs done) ($50 max)
Oil change (will be doing very soon) ($40)
So far, I have, including the purchase price, probably about $1200 in the car. Not too bad. Let's get to the short drive portion.
This car is powered by a Nissan VQ30DE-K 3.0L V6 engine, the same one found in the early years of the fifth-gen Maxima. It's a very smooth engine overall, with good acceleration. It has 227 hp and 217 ft-lb of torque, which is pretty good for the time that it was made. A lot of naturally aspirated V6 engines now put out over 300hp, which shows just how far technology has come.
The transmission in this car seems to be pretty solid, for a four-speed automatic. It's one of the better ones I've driven. The shifts, while they can be felt obviously, are not at all rough or harsh, and it doesn't fuss at highway cruising at all.
As I said, acceleration and passing power are really quite good. Merging onto the freeway with a 65mph speed limit was effortless, and the car begs for you to punch the gas. This is a car where you really can't feel how fast you're going. I caught myself hitting 80 once, and I didn't think I was even exceeding the limit. Keep this car off of Virginia roads!
The power steering is really good, and minimal effort is required to keep it going straight, or to turn it.
The sound of the engine is really quite nice, and the car sounds much better with the new muffler on it. The engine note from the VQ30 is quite pleasant to the ear. I quite like it.
So far, I've driven it on short highway stretches, in-town driving, and open public roads with speed limits around 50-55. It performs adequately no matter where I'm driving it. Potholes don't seem to bother it too much. You can feel them, but they're not going to jar you. It feels quite composed, even on the worst of roads. I'm sure the new suspension and steering assembly parts are partially to thank for that.
This car has almost all the features ever for its time. I mean that. So many toys! I'll go into greater detail in the full-length scored review, but for a quick list, without much explanation, here you go:
Memory driver's seat (2 person)
Leather upholstery
Bose stereo with CD and cassette
Analog clock
Power driver's and passenger's seat (driver has more adjustments, as well as manual lumbar)
Sunroof
Rear power sunshade
Two trip computers
Digital climate control
Sunglasses storage
Garage homelink
One touch up and down power front windows, regular power rear windows
Remote trunk and fuel door release
All in all, I love how this car drives. Everything seems to work impeccably, minus the occasional occurrence of the misfire, and slight hesitation of the rear sunshade from time to time. I can see a great relationship with this inexpensive luxury ride.
The full scored review should come within the following week or so, along with more pictures!