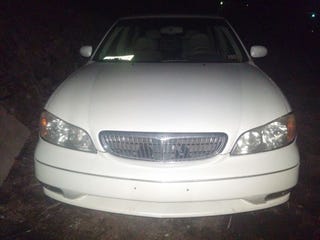 The Infiniti I30 was first introduced in the US of A in 1995, for the 1996 model year, as a more expensive upscale version of the Nissan Maxima, also known as the "four-door sports car." The first-gen ran from 1996-1999, with the second generation I30 debuting in 2000. The second-gen lasted from 2000-2004, with 2002 seeing it renamed the I35, due to a new 3.5L V6, up from a 3.0L V6 in previous years. There were also new features added over the years, including heated seats in the rear, and a heated steering wheel. The model being reviewed here is the 2000 Infiniti I30 base model, with a 3.0L V6 engine and four-speed automatic transmission.
(Full Disclosure: Nissan/Infiniti wanted me to drive the I30 so bad, it stayed at a dealership, where it was very well maintained, and it was then given to the dealership owner's daughter and her husband, and when they split, he kept the car, and then sold it to me for a paltry sum of $800.)
The I30 I have here, as I said, is the base model, and not the sportier Touring (or T) model. Though, just because it is a base model, does not mean that it lacks for features. Not in the slightest. It doesn't have all of the features equipped that were optional, but still a good many. The features mine lacked that were available include heated front seats, traction control, a six-disc CD changer, and factory navigation. Regardless, it's nicely loaded, and I'm sure that Nav system, being from 2000 and CD-based, may be a bit clunky. Regardless, the fact that it was available on a car this old, speaks for the advanced engineering of the car.
Exterior 8.5/10
This is a nice looking car. People have confused it for a Mercedes, which is cool, even though there isn't a huge resemblance, but it tells you that it certainly looks classy. Most of the exterior design, like the car itself, is heavily based on the fifth-gen Maxima, but with unique styling touches, including a unique front and rear fascia. Here's a comparison shot for you to see for yourself.
The midsection of both cars seem to be identical, but the distinguished front and rear help to break up the rebadging.
Condition wise, the exterior looks really good. There's minor spots of rust showing up here and there, mainly around the inner parts of the wheel wells, the top edge of the windshield, the edge of the fuel door, and little specks on the hood from rock chips. However, rust is not even noticeable unless you are looking very closely at the car, which is quite amazing, considering a) it has over 250,000 miles on it now. b) it sat parked for months, even in winter, and c) it's located in the mountains of Maryland, where you'll see worse rust spots on cars that are only 5 years old. There's no holes in the body whatsoever, nor are there any dents. There are some minor scrapes on the front and rear bumpers, but absolutely nothing to worry about. Being white, the car does show dirt pretty bad, but overall, the body is in excellent condition.
Interior 8.5/10
The interior of this car is very nice, but not without flaws, though they are minor. The leather on the seats is in excellent condition. There's some minor cracking on the front seat bolsters, a bit of wrinkling in the seats, and one minor, small tear on the bottom seat portion on the front passenger seat. The passenger side lock/window wood-grained panel has a moderate crack in it, but nothing that affects functionality. The storage area on top of the dash (where the GPS would normally go) is a trash-can lid style, and it's a bit broken. It just needs new hinge screws, and there's a crack on the trim surrounding it, but it's still functional. The analog clock and radio button backlights are burned out, but no big deal there. I can live with that. The radio display is still completely clear. The radio itself has some wear in the trim near the buttons, but nothing serious. It's definitely in good shape, considering the mileage, and the fact that young children regularly rode in this car.
Acceleration 8/10
Woo! Acceleration in this baby is awesome. You press on the gas, the VQ30DE-K 3.0L V6 roars to life and just pulls and pulls. It doesn't have gobs of torque, but it certainly has more than enough. Acceleration is very smooth, but with a taste of sportiness, and once you really press on the gas, you do not want to take your foot off of it. The car says, "look at my speedometer, it goes to 160mph, don't you just want to keep going to see if I can actually reach it? Don't stop Dave, come on, push it harder, make it faster, keep going, just like that... oh you make my engine growl..." Little hint, it doesn't actually accelerate to 160mph, but it certainly feels like it will. I love the feeling when I press the gas on this. 227 hp and 217 lb-ft of torque both feel really nice, especially in a car that only weighs around 3,400lbs. Here's a little comparison. My 2000 Durango has 235 hp, and 295 lb-ft of torque, but it also weighs almost 4,800lbs. There is an astonishing amount of difference in the acceleration in these vehicles. In the Infiniti, 0-60mph comes in about 8.3 seconds, and it's actually a couple tenths of a second slower than the Durango, but it FEELS faster, it really does. It's amazing how a lower-sitting, 1400lb lighter car can make slightly slower feel like it's faster.
Braking 7.5/10
I'm glad I waited until I had brake work done to do this review. A week ago this would have been a 2 or 3 at best, but with new brakes and a new master cylinder, it's much better. Not perfect, but far and away an improvement, which means this car slows and stops with great confidence now. It's certainly safe now. It was a bit harrowing beforehand, and we had to fight with the shop to get it done right, but they did pretty well, and I feel a whole lot better slowing the car down. There's still a little bit of squeal here and there, mainly due to brake dust, but it's getting better day by day.
Ride 9/10
The ride on this car is awesome. It's extremely smooth at highway cruising speeds, and around town. The new steering and suspension components help that majorly. Potholes are a minor annoyance in this, compared to my Durango, where we got jarred and shook like crazy when we hit one. The ride on this is quite composed. It's apparently a bit harsher in the Touring model, with a sportier suspension, but on this, it's nice. You never feel like you're going as fast as you are. 40mph feels like 25. I was on the highway the other day, and the speed limit was 65. I figured I was doing about that, maybe even as much as 70, but I look at the speedometer, and I'd been cruising along at 80mph, with no fuss. It's just that smooth of a ride. It feels planted and secure. It's even better with the sunroof open and the windows down, when you can actually feel the wind all over. It only loses a point because I haven't fixed the engine miss yet, and when it acts up on me, it makes idling and slow acceleration slightly rough. Beyond that, it rides great.
Handling 7.5/10
Handling, for a FWD car, is actually pretty decent. Steering feel is generally very good, and it goes right where I want it, without a complaint. It's certainly no RWD canyon carver, but I do honestly see where the four-door sports car boast comes in. Not sure I could take it autocrossing or anything like that, but it certainly handles quite well for a luxury car. I can take twisties and turns without breaking a sweat, so there's that. I quite like the handling in this.
Gearbox 7.5/10
This is probably the best automatic I've driven, and I've driven LOTS of cars with automatics. (probably somewhere near 30) It shifts very smoothly, with no hesitation, no gear hunting, and while you can feel it shifting, it's not rough. This car didn't come with a manual for this generation in the US, but it did in other markets, so if I ever decided to do a manual swap, it would certainly be simple enough to do, as far as manual swaps go at least, but for now, this auto is pretty decent.
Toys 9/10
Oh man, does this thing have some cool toys. I told you above about the ones that it doesn't have, but could get. What it does have though, is certainly awesome. Let's see... we've got dual power driver and passenger leather seats (8-way driver with manual lumbar, 4-way passenger, no lumbar), one touch up and down front windows, power rear windows, rear power one-touch sunshade, one-touch open/close sunroof with pop-up wind guard, and it also tilts. Also included is a Bose stereo, with CD and cassette, and very good sounding speakers, digital climate control with ambient (outside) temp readout, economy mode, automatic mode, and several other settings. Heat is fire hot, and air is ice cold in this car. Also has unlimited storage. Seriously. You've got the usual pockets on the driver and passenger front door panels, rear seat pockets, and glovebox. You also have a two-tier adjustable forward and backward armrest storage compartment, a flip open compartment just ahead of that, cupholders with removable tray for larger drinks, storage under the radio area, a compartment ABOVE the radio on top of the dash, and a flip-down sunglasses storage area. You also have a total of five cupholders in the car. There's the two I mentioned, and a third one right above the vent on the front passenger side (which is very well hidden I might add), and two more in the backseat. There's also a power outlet with original lighter up front, and power outlet in the back as well. The gauge cluster also makes use of two trip odometers, A and B. The rear view mirror is auto dimming, which is super nice at night. Also awesome, two person seat memory for the driver. When you open the driver's door, the seat automatically moves back to make room to get in, and when you put the key in, it moves forward to the last setting. I'm still getting used to that. It also has cruise control, there's an analog clock, which is very classy, and finally a remote gas door and trunk release.
Whew. There's a lot of cool toys and stuff in this car. I mean, seriously. That section really ran on there. I love all the features it has. Very very nice. Who ever said a base model couldn't be well equipped, especially in 2000? Those were still the times in which a base model car still had crank windows, manual locks, manual seats, and maybe not even a CD player. But then again, this wasn't your typical car for the time.
Audio 9/10
The stereo sounds really good, with all the different adjustments, and with it being a Bose and all. The CD player plays quite well, with little to no skipping or jumping. Certainly a very high-end stereo. But even better than that is the engine note.
This is, bar none, the best sounding V6 I've ever driven. It sounds amazing. Here's a video clip someone posted of theirs, so you can get an idea of the engine note.
From a V6, that sounds absolutely incredible. And man, the engine audio is just incredible. It really is. I mean, it's no V8 monster, but it's nice regardless.
Value 10/10
Oh yes, this was a great value! $800 for the car, plus four extra tires, probably $600 in parts, labor, and getting road ready, including an oil change. I have, as it seems, less than $1,500 in the car, and I could turn right around and sell for probably a $1200-$1500 profit if I wanted to, not that I'm going to. These cars still regularly sell for $3500 and up from what I've seen, and I don't have anywhere near that in it. That is an amazing value. You can't get much better than that. Also, keep in mind, the owner left all their stuff in the car and told me to keep it, and one of these items was a $200 Fossil watch, and the other was a like-new iPod classic. I could sell each of those for a fair amount of money. Yeah, my wallet is not hurting on this purchase.
Overall 84.5/100
84.5 is absolutely a fair score for this car. For less than $1,500, I have a working, running, driving, shifting car, in excellent physical and mechanical condition, with all working electronics. This is a car that retailed for about $30,000 when new. Yes, it has over 250,000 miles now, but I see that as something to be impressed by, not something to shy away from. When your car has that many miles and looks this good, then that means that it was extremely reliable and it was very well taken care of.
Enjoy the pictures and see for yourself!
Engine: 3.0L VQ30DE-K V6
Output: 227 hp @ 6400 RPM/217 ft-lbs. torque @ 4000 RPM
Transmission: 4-speed automatic with overdrive
0-60 time: Around 8.3s
Top speed: 125-130ish?
Curb weight: Just under 3,400lbs
Seating: 5 people
MPG: Est. 18 city/24 hwy