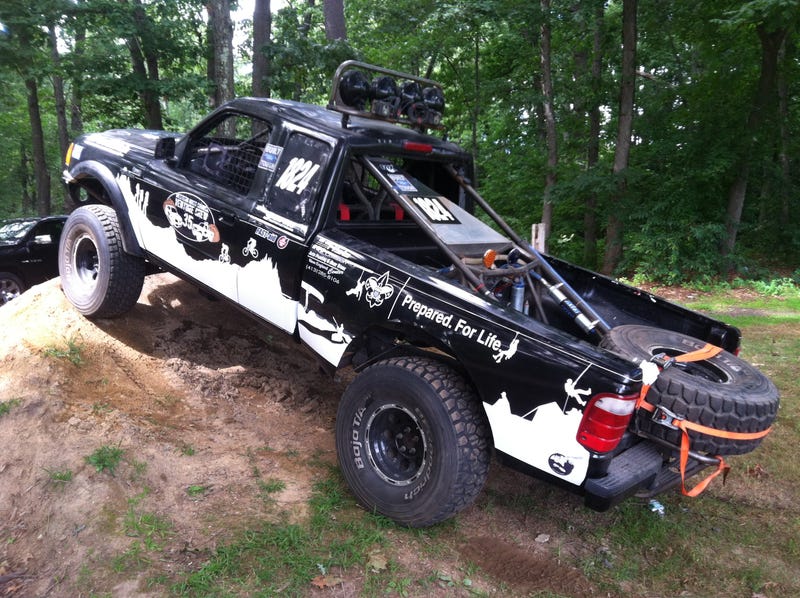 The Ranger is dead. Long live the Ranger. Ford, of course, killed off the beloved small truck a few years ago, but after over two decades of sales the light duty workhorses are still an everyday sight on roads all across the country. This particular model however is neither a workhorse nor allowed on the roads. If you're looking for a daily driver or something to haul ladders and plywood in, run. Run far away. If you're looking for a way to kill yourself (with a massive grin on your face) however, this could very well be the car for you.
Vehicle: 2002 Ford Ranger, turned into Best In The Desert Class 7300 (Stock Mini pickup) race truck by Bunderson Racing in 2008
Price (2008 build cost/2011 resale price): $80,000/$20,000
Engine: 4.0L V6
Curb weight: approx 3,900
Transmission: 3 Speed automatic w/ manual-only shifting
0-60 Time: Unknown
Top Speed: Approx 110 mph (as tested)
Drivetrain: Rear wheel drive
Seating: 2
MPG: Approx 6 under race conditions
Exterior: 7/10
Let's be brutally honest. The Ranger was never meant to turn heads. It was designed to be a good, simple, utilitarian truck. This particular Ranger did get a facelift to match the 2004-2011 front end, but was still a relatively plain design. The front push bar, exposed headers in the wheel wells, cooling fans in the bed, and light bar (when installed) went a long way toward solving that, and the more recent Boy Scout livery have taken it even further, making the truck truly eye-catching. There's still the body damage and missing mirror on the co-driver side to be dealt with (not my fault, the previous owner rolled it), but this is now truly a pretty good-looking truck.
Interior: 8/10
There is no leather, no wood, and the only chrome is a single strip which runs between the top of the dashboard (which is still the factory stock plastic) and the face (aluminum). The "floor mats" are large slabs of heavy duty rubber and are screwed into the floor. That said, everything inside the cockpit of the truck is there for a purpose, and the purpose is to kick ass. From the missile launch switch panel to the horn button in front of the navigator ("I'm too busy to honk the horn, I'm driving!") to the fresh air system and massive cargo pockets mounted to the rear wall of the cab. Everything in here was designed to work well and look professional. Nothing exists if it isn't needed, because that's useless weight. The Mastercraft seats are incredibly deep, with massive side bolstering and a five point safety harness, sure to hold you in place no matter how stupid you get behind the wheel. Despite this the seats are unbelievably comfortable. Sit in one of these and you'll want to make a new office chair out of it. This is a very nice place to be. The only complaint I could possibly have is that the shifter is mounted too far back, making it impossible to see what gear it's in while wearing a helmet and neck restraint. Fortunately, as this is a custom-built race vehicle a simple reorganization of the center console area can solve this.
Acceleration: 7/10
Keep in mind this is a Ranger, built to compete in a "stock" class. The engine, while a race motor with a relatively absurd price tag, is built off the stock Ranger 4.0 block and heads, as per the rules. The tires are 35 inches and weigh 85 pounds each, and the gear box is only a 3 speed. Which means you are completely unprepared when you put your foot down and the truck accelerates with what feels like enough force and nose lift that you're doing a wheelie (something you can actually do with well-timed throttle blipping). I took a fellow rally co-driver for a ride in it once. She'd sat in all manner of rally cars from bone stock 80s VW Golfs to tuned open class STi's. According to her when I did the first full throttle acceleration (done indoors, by the way), it completely left her stomach behind, something she'd never experienced in a rally car. Now I'm not claiming this truck is faster than an STi, in fact I'm sure it isn't. When I finally get the chance to do a 0-60 speed run I expect the results to be in the 8-9 second range (at best, second gear is a fairly tall gear). Some of this sensation of speed comes from the soft suspension, some from the lack of a windshield. But this thing feels fast in a way I've rarely experienced elsewhere.
Braking: 4/10
I suspect this is, in part, my fault. I destroyed the pinion gear on the primary rear axle and haven't yet had the chance to replace it, so we've been driving it around on the spare axle. The problem here is that the caliper mounting points on the spare axle had a one inch offset compared to the main axle, so I created some spacers out of a piece of Home Depot flat stock. I also replaced the rear calipers with newer equipment because the old ones were very worn and starting to stick. This is a bit of a challenge because the calipers and pads run on this truck are for a '96 Mustang Cobra. The caliper bracket, on the other hand, I suspect is something else because the pads don't fit in the bracket unless you remove the rattle clips (the original pads did not have rattle clips either). Without the clips the pads fit slightly loose. So you've got ill fitting pads in brakes mounted on Home Depot steel. As a result you can have the brake pedal to the floor, add about 1/3 throttle, and the rear wheels will spin (this was done with the rear end off the ground, mind). The truck still stops in a relatively decent distance for a road car, but is lackluster for a race car. When we reinstall the primary rear axle I intend to install completely new brake hardware. Until then the brakes get a 4.
Ride: 4/10
Stock class means stock suspension setup. Desert competition means beefier parts in that stock suspension setup. As a result the leaf spring pack has 12 springs and is thicker than my forearm. While all this is good news when you find yourself about to land from three feet in the air at 60 mph, it does mean you lose a fair bit of ride comfort at lower speeds. Speed bumps and similar obstacles are a bit jarring at speeds below 25 mph.
---
Handling: 7/10
It's not going to win any autocrosses and will look incredibly comical if it tries, but out in the desert the handling of this truck is unbelievable. With 300(?) horsepower (pure guess) and a locked rear axle it is very easy to get the back end out on dirt, and on pavement cornering tends to involve a lot of steering corrections and healthy doses of oppo. The beauty however comes in the ease of controlling these slides, particularly on dirt. With zero real off road experience I was able to put the truck in an 80 mph drift and control it for over two hundred feet, about twice the speed and twice the distance of my previous biggest slide. Two days and forty test miles later, driving my first race, I was in a series of mid/high speed switchbacks over crests and the truck felt like it was driving itself. If you drive way over your head the truck will make you pay (previous owner rolled it twice and I've come close on a half dozen occasions), but up to that point it is incredibly forgiving and will make you feel like Superman.
Gearbox: 7/10
Yes, technically it's an automatic. In fact it started life as a C4 out of a full size Ford. Since then however it has been rebuilt into a race transmission and, while officially an automatic, it will never change gear unless you make it change. Instead of being attached to a computer which selects the "correct" gear, it is attached to a cable going to the Art Carr sequential gate shifter in the cab, meaning you do all the selecting and you still get that satisfying feel of changing gears. The big advantage to this setup is you don't need to lift of the throttle to upshift. The bad news is since there's no clutch you have to wait for the RPM to come way down before you can downshift, otherwise you risk damaging the engine/transmission and/or losing control of the truck due to resulting wheel hop. That said, you really don't want three pedals in the desert and even the million dollar trophy trucks are set up like this.
Audio: 9/10
At first that number seems impossibly high for a race car, particularly one with a relatively unexciting motor. First off, just no. When that V6 sings in the 4000-5000 RPM range it moves mountains. It's been measured at 125 dB (with mufflers installed) and in the desert has been heard from 4 miles away. While not as evocative as the V8s in the trophy trucks it is a beautiful sound, and the crackle on the overrun sometimes seemingly lasts long enough to be timed with an hourglass. Not in the mood for engine noise? You're in luck. The truck has an intercom and two-way radio to make it possible to talk to your co-driver and support crew without yelling or smoke signals. If that's not enough you can also plug your iPod/iPhone/Zune/Walkman/portable 8-track into the intercom and have your music and audiobooks piped directly into your earhole. Odds are the music will be a bit tinny, most race headsets weren't exactly designed for the wub wub of your embarrassing dubstep collection, but that's your helmet's fault.
Toys: 9/10
Everything in me says I should give this a 10, but I'm trying to seem at least a little objective here. Fact of the matter is, though, this has as many buttons, switches, and gauges as most light aircraft. While the four portable suns on the roof are fantastic in their own right, the greatest toy of all is the one located dead center on the dash, the D200 Dash Logger from Powertrain Control Solutions. You know the information display in the GT-R? This is like that, but turned up to 11. The D200 can display and record any information you can imagine. RPM, G-force, speed, throttle position, MAP sensor, intake temperature, exhaust temperature, fluid temperatures and pressures, you name it. It can capture this data at up to 1000 times per second, so after a test session you can download it all to your computer and fine tune your powertrain settings.
Value: 6/10 (build price) 8/10 (resale price)
When this truck was originally built it was done with an open ended budget and one goal: to decimate the competition and win the championship. And for two years it did precisely that. With an 80% win rate and a 90% finish rate in a motorsport where finishing is like playing darts blindfolded it was miles ahead of anything else in the class. It was this strength that proved to be the truck's greatest weakness. Eventually the competition decided racing for second wasn't fun anymore and the 7300 class died. Only one other truck ever showed up to contest the class in 2011 (the year I bought the truck) and since then it has been emptier than the deserts the trucks compete in. So what we have here is a Tyrannosaurus on an empty island. The fiercest killing machine ever known, all alone with nothing to hunt. Which is why it was sold for what is, essentially, the same price as the original cost of the shocks and shock tuning alone. And while the 7300 class is dead, it can be raced in the sportsman class for $1000 less per event than the 7300 class entry fee. If that's not a bargain, I don't know what is
Final Score: 70/100
Scoring mostly high marks, it's let down by the brakes and the ride. While any improvement to the ride will destroy the entire point of the truck, I'm hoping the upcoming brake job will solve that problem and get the score close to 75. All in all while I don't get to play with the truck often, and it likes to break at inopportune moments, I absolutely adore it for the glorious rare and ridiculous beast it is. There is truly no such thing as driving it without endless giggling.