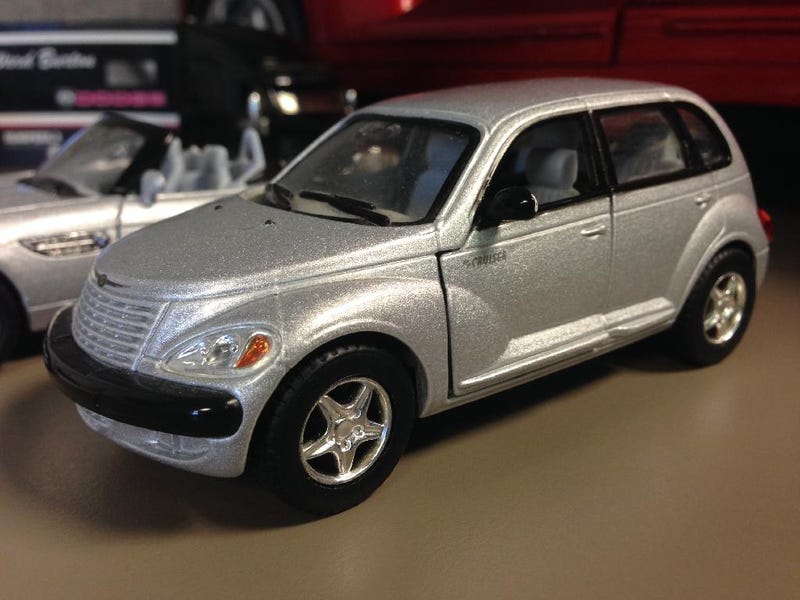 So, while the other comrades get the group together, I guess I'll submit my first ever Diecast review!
(Full Disclosure: This car has been in my diecast collection for the past 11 years. I got it while visiting the Wilderness Territory (indoor waterpark/hotel) in Wisconsin Dells. It currently resides on my desk at work. It's missing a taillight...probably got knocked off the desk by the housekeeping folks...)
The PT was designed during a very short time period in which retro designs were the going trend. Around this time, we saw the birth (and death) of the polarizing Plymouth Prowler, the new Ford Thunderbird, and in later years (and designed by Bryan Nesbitt), the Chevy HHR, and the Chevy SSR.
And, like its Chevy HHR equivalent, the NHTSA and EPA classified it as a lorry!
If you've ever wondered what "PT" meant (I know you really don't, but I'm saying it anyway), it means "Personal Transport".
And so today, I proudly present to you, one of the most polarizing modern vehicles ever made...in diecast form...
Exterior and Detail: 7/10
This model is a pullback from Kinsmart in 1:34 scale. Given its size and intended purpose (pullback toy), it is well detailed. The exterior light cases are very well recreated and even tiny intricate surface details are present. Wheels and tyres are impressively accurate as well. The tread pattern is actually quite believable. The fact that there's even lines on the rear window for the defroster? Top notch.
The vehicle even has proper badging as well. The car loses points for having slightly misshapen doors, but otherwise it's a very solid, good looking model on the outside.
My favourite part about this car is the metallic paint. Model cars often have a hard time doing metallics but this toy shines!
Interior: 4/10
Well...it has an interior. Everything is in the right place and everything belongs in a PT Cruiser, but there isn't much in the way for quality. I do like the neat touches to the dashboard and there's a suitcase in the backseat. Unfortunately, there's really nothing else to say about the interior...
Value: 9/10
You can buy one of these things for $5 to $8 USD on eBay in new condition. You can buy a real model PT Cruiser for a couple dollars more. So there's practically zero investment to buy one. Only tidbit being that you could get a real model for a couple dollars more.
Rarity: 3/10
While you aren't going to find many (if any) in stores anymore, you can find them online for cheap in nearly unlimited quantities for indefinitely. And if you can't find a Kinsmart version, don't worry, there are tons of more versions you can get for the same price that may even be more detailed or a larger scale.
Collectible: 2/10
At this present time, it's pretty much not collectable, at all. I'm certain 100% of the people who have bought these are either kids, PT Cruiser/Chrysler enthusiasts, or car dealerships. They might be collectible in the future, but today? Nah...
Verdict:
Well, it's a toy. It's not even a model car...But it is a diecast with good exterior detail. It's cheap, plentiful, and comes in a huge variety from a plethora of different brands. Honestly, if you really want a diecast of a PT Cruiser, get yourself an actual diecast model and not a toy. It'll only cost a couple more dollars.
25/50 (average)
(Photo Credit: iPotato 5)