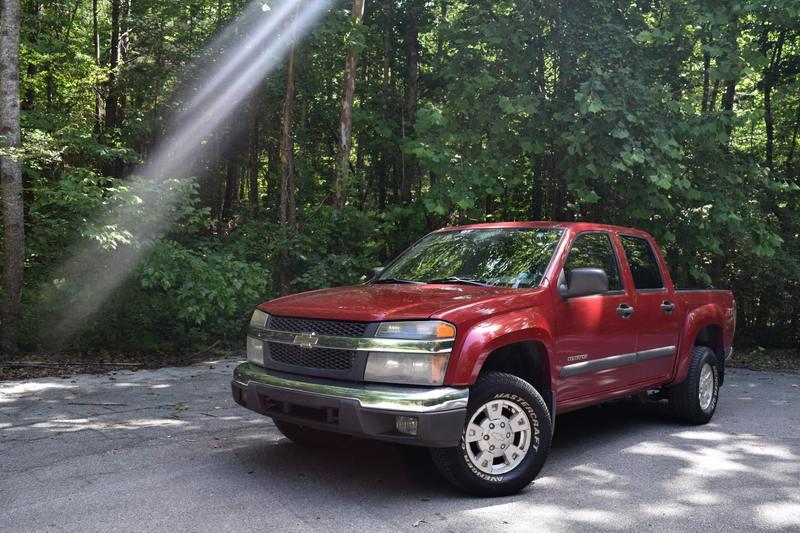 Fourteen (well actually fifteen) years ago, my parents were decently well off. My dad had bought himself a brand new, bright blue, Silverado Z71 with all the options, and we were looking to replace my mom's old Frontier SE as well. My dad took interest in the new Chevrolet Colorado, GM's newest mid-sized truck, and managed to talk my mom into it as well. She ordered it from the factory in late 2003, and now in 2018, it's still the family truckster.
This is the story of the truck I grew up in. My mom's Colorado.
In 2003, Chevrolet revealed the Colorado, their new mid-sized truck and replacement for the fan-favorite S10. The Colorado was far bigger than the S10 ever was, as mid-sized trucks had largely dominated the smaller truck market due to models such as the Dodge Dakota taking charge on the roads.
Besides the obvious size upgrade, the Colorado was a very different truck compared to its predecessor. Chevrolet was big on the whole fuel economy thing at the time, and decided that in pursuit of that, rather than going with a traditional V6 like the S10, the top trim Colorados at debut would find power from an Isuzu-made Inline 5 of all things.
The Inline 5 was a bizarre concept to eight year old me, let alone my mother and father who thought they were only the product of European marques like Audi and Volvo. The 3.5 liter unit was good for 220 bhp and 225 lb ft of torque, around 40 more overall horsepower than the outgoing S10's V6. The reasoning behind the I5, as stated before, was the pursuit of better overall MPG, which held true with the I5, boasting around 25 average miles per gallon. Not bad, considering that's the same amount as my Subaru.
The Inline 5 was also joined by a slew of I4s for the base model and Z85 trims, with the 3.5 taking home in the smaller Sport and my mom's Z71 Colorado. Later models also included the addition of a larger 3.7L Inline 5, and even a 5.3L V8 in the Colorado Xtreme and top-trim LT3 model.
The Colorado was by no means a luxurious truck. While amenities like leather seating and power locks and windows were offered, that was about the end of the options list, a stark contrast to the offerings on its modern day companion. This basic approach is no more evident in my mom's truck, which is the top trim Z71, but lacks power features and such, a concept that has largely been lost in today's world. Cloth bucket seats adorn the front and rear, which are not really comfortable, but aren't really hard either. A good combination which has served us well in many road trips through the years.
If you're expecting an amazing stereo system with nav screens and dual zone climate control, you won't find that either. While a Bose system with 6 disc changers was available, of course, my mom did not opt for that, going with the standard single-disc player and basic stereo system. Nevertheless, it works well enough, and the AC is as cold as most GM ACs are.
So, features aside, what has it been like living with this truck for so long? Well, it's definitely a workhorse. Despite its 2WD architecture, it's done fairly well in dirty situations, towing out stuck ATVs and such with ease. Towing is decent as well, but of course, you won't be towing no humongous boat with it. The bed size is also great, and my mom has used it to stow everything from mattresses to boat-loads of potted plants. So it definitely passes the, "Does it truck," test.
It also does pretty darn well as a daily driver, evidenced by the current odometer reading of 234,931, a mileage that has been achieved through years of taking me to and from school, a short stint as a mail worker, and other adventures. The truck is no slouch on the highway, with that I5 pushing all of its 220 bhp through a 4L60-E automatic, making for decent get up and passing speed.
Handling is nothing really to write home about, as it's about as numb as most other mid-size trucks. However, it doesn't exactly feel its size. City driving is a breeze and maneuvering through car parks is decently easy. This is also helped by its excellent visibility, something a lot of trucks lack these days as they are so adamant in becoming bigger and bigger.
But now that the technical stuff is out of the way, why does this truck still matter to me after so long? When so many others would have traded it in for something newer, why do I never want my mom to get rid of it? Well, let me tell you a story.
In December 2014, I had my first car-totalling accident. My Cadillac was punted up the rear into the back of an Xterra. I was fine, but the air bags had exploded, which led to its complete demise in the eyes of the Department of Transportation. Needless to say, I was quite depressed by the action.
The first person I called was my mom, who was luckily just getting off of work at the time. She told me, "I'll be right there," and hung up as quick as possible. About fourteen minutes later, I see the lights of the Colorado peak over a nearby hill. My mom was here, she got out of the truck and ran to give me a gigantic hug.
Ever since that day, this truck has always signified one thing to me: home. Whenever I see this truck in the driveway, or if I pass her going down the road, or even when I see it parked outside of my mom's work, it warms my heart. It reminds me of my mom and how much she loves me. It reminds me of the evenings at school when I'd have a bad day and it'd show up to pick me up, and how much my mom was adamant to help cheer me up. Truth me told, this truck is my mom in car form...and I'll never forget it.
It may not be the most beautiful truck out there, it may not be the most powerful or comfortable. But it will always have a special place in my heart for so, so many reasons. If anything would ever happen to this truck, I'd be heartbroken, because it would only remind me that my mom won't be here forever. But while she's here and while the truck is here, I will enjoy it.
So, all things considered, I think the Colorado may be the best truck my family has ever owned. It's been trustworthy and has stood tall to every adversary thrown its way. I will take this truck over any considerable competitor any day of the week, and I swear it on my heart. Chevrolet was not pissing around when they said these trucks were, "like a rock," and I think our Colorado is a standing example of that.