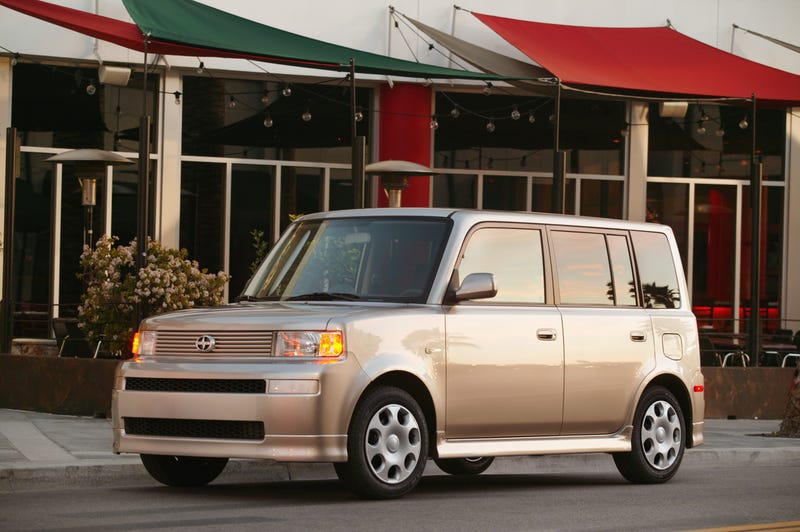 Back in 2004, Toyota had a plan: Sell a pair of Japanese market Echo derivatives under a new brand to young Americans by setting no-haggle prices and making every option besides color and transmission dealer installed, so that they'd grow older and wiser and buy a Toyota and hopefully grow older and wealthier and eventually buy a Lexus. It was an interesting experiment that didn't really pan out. They figured that people over 40 would take one look at the xB and shake their fists in the air while complaining about kids these days and their rap music. Instead, old people looked at the xB and saw this car that's just so easy to get in and out of with that troublesome hip of theirs. A car that's good on gas and is so very practical and just the perfect thing to drive their cockapoo to Boca Raton to visit the inlaws. That's who bought the bulk of them, and no amount of mixtapes and graffiti art shows could change that. Your cars were selling to the old people you'd hope you scared away. And a 22 year old me.
(Full Disclosure: I read an article in one of the mass-market car magazines on an airplane about how Toyota had this weird boxy car called the Bb and they were going to sell them in the US. I wanted a piece of that Japanese strangeness so badly that I walked into a dealership that was so recently chosen to sell Scions that they didn't even have business cards with the logo on them yet. I took a 15 minute test drive and about half an hour later an order was placed to ship one over from Japan. Also, my car is currently way too dirty and full of crap to take my own pictures so I'm just going with the official photos from the press kit because I'm lazy.)
Ten years ago, I began driving the squarest of cars. It has been my sole mode of personal transport for almost 100,000 miles. And now, thanks to my late grandfather and his will, it's just about time to get something new. So I guess a review in Oppo is as good a sendoff as any.
Exterior: 8/10
It's square. It's really, really square. It's a whole bunch of styling work done with the end result of a design with the least possible styling. A friend once told me that it was the box his MINI came in. I agree. I also think it looks fantastic. It's one of those designs that were so out there that they'll never really age. I mean, what can possibly look dated on it? It has no styling features at all. It looks like the first car you built out of Legos when you were 6. It's a car you can't help but have a strong opinion on. It's one of the only cars to be called a "love or hate design" that actually is. There's no getting around it, there's no hiding it, it's just there in all its boxy glory. I actually got pulled over driving it home from the dealership by a cop who just wanted to take a look at it.
It's a unique design that only looks like itself. Will that stop people you meet who know nothing about cars from asking "how do you like your Element?" No. It won't, but that's not it's fault. It can't help it if those people are blind or stupid or god knows what to confuse the two.
Interior: 7/10
The interior is the reason why boring cockapoo owners bought this car. It's brilliant. It took the whole tall box thing that has been going on for years in kei cars and just scales it up a bit. The xB is a small car with a huge interior. It's like driving around in the House of Leaves. It's a big roomy airy open space with which to fill with stuff. With the rear seats up, it's like you have a sofa. Full-size adults sitting back there would be totally comfortable for a long drive. With the seats down, it's like having a van. I've fit a twin mattress and box spring in this car and was able to close the tailgate. This is one of those cars that doom you to a life of helping people move.
As for the parts of the interior that aren't air, the seats are decently comfortable yet lacking in any functional bolstering, with simple yet durable fabrics. The plastics are chintzy by 2014 standards but perfectly average for 2004. And even though everybody hates it, the center mounted instrument cluster is great. You want to know the quickest way to tell if somebody has never driven a car with instruments mounted high in the center of the dash? They talk crap about it. Putting them up there means all you have to do is give a slight glance to the right to see them. It puts the speedo and tach in a place were you only need to take your eyes off the road for the briefest of moments. And no, it wasn't done in this car to save money on the right-to-left hand drive conversion, since the dash is a single molded piece of plastic and a mirror image of the one they used in Japan.
Acceleration: 4/10
It has 108 horsepower. It only weighs around 2400 pounds, but it has 108 horsepower. It's slow. It'll get you up to speed and onto the highway without any problem, but still, it's slow. Even though the 1NZ-FE engine loves to rev and shouts out an engine note akin to a guy in the gym who saw a hot girl and put more weight than he can handle on the barbell before doing a bench press, it also performs like that guy and ends up putting forth a ton of effort for zero result.
Braking: 6/10
Despite having drums in the back, it stops surprisingly well. No difficulty, no drama, no fear and panic. They do the job they are asked to do, and they do it admirably. You're not going to rear end the guy in front of you who is totally lost and just realized Google Maps says he needs to turn onto this road, but you're also not going to save precious seconds at those chicanes they added to the Mulsanne to make it safer and more boring.
Ride: 6/10
I'm not going to pretend it's good. It's rough, but it is an econobox, so I suppose it can be forgiven. It's not break your back hard, but it leaves no doubt in your mind that this was designed as an economy car. I'm sure it would be much worse if the seat bottoms weren't so perfectly squishy. So basically, it's firm, but not sporty firm. More like "these harder shocks were cheaper and last longer" firm.
Handling: 10/10
This is where the xB transcends its cheapo-econobox roots and becomes more than the sum of its parts. This is also where I'm sure people are going to roll their eyes and then get that special kind of hyperbolic angry that you only see on the internet. "How can you give this stupid boring too-tall Toyota Echo a 10/10", they'll say. And they'll be wrong, because the fact that this is easily one of the most entertaining cars I've ever driven is a hard one to sell to the boring people of the world. The ones who see numbers like skidpad G ratings and 'Ring times as a measure of automotive quality. The first generation xB is the kind of car that separates true Jalops and enthusiasts from people who merely like cars.
The modern automobile has reached an unprecedented level of uniformity. The vast majority of cars sold in the past 15 years or so all feel roughly the same to drive. The xB, however, does not. It offers the rarest of things in this modern age: a truly unique driving experience. It achieves this through a combination of things that most people would see as a negative in building a driver's car.
The seating position is upright in a way that is beyond van-like. It's like sitting at the dinner table. You're way up there in the sky, level with the drivers of SUVs. You're constantly feeling like a turn taken with too much vigor means you'll end up on your roof, but you won't. The center of gravity is still low enough to mean all that body roll is just a new, unconventional way to make driving fun. The steering wheel is just slightly too big and the steering rack is just slightly too tight, making any input into the barely-assisted steering translate into big movement. And while we're talking about steering, 30 seconds behind the wheel of one of these will totally change the minds of those people who think that Toyota only makes numb, boring cars. There is a ton of feel transmitted through that wheel. The kind of feel you only get when making the car more numb would cost more money. Combining that with the huge windows all around giving you more visibility than pretty much anything, an engine that needs more work than should ever be needed to get going and that awesomely stupid gearbox (more on that later) creates a driving experience that could best be described as "a hoot".
This goofy little square car is a huge amount of unusual, yet wonderfully simple, fun. I checked the car out because of how it looked. I bought it because of how it drives. Nothing in the world feels like an xB to drive, and 10 years later, it still makes me smile.
Gearbox 8/10
This is a big part of the fun. The original JDM Toyota Bb was only sold with a 4-speed automatic, with a column shift, while the Scion version was blessed with a 5-speed manual. I have a Japanese magazine for Bb enthusiasts that has a page on the Scion version of their beloved car, and the close-up of the manual shifter was annotated with an exclamation mark and nothing else. And that's about right. It's awesome.
And when I say awesome, I don't mean in a Honda S2000 super-short laser-precise mechanical perfection kind of way. To people who dislike shifting, it's one of the worst ever made. But for people who do, holy shit, it rules. The fact that the seats are so high and upright paired with the shifter being mounted on the floor means throws are long. Like, really long. I'm pretty sure there are gas giants in our solar system that travel a shorter distance than the throws in this car. You don't shift this transmission. You SHIFT it. You don't move the lever with a flick of the wrist. It takes your whole damn arm. Those of us who enjoy the dance that is shifting will love the gearbox in this car. Pair that with a clutch that is easy to actuate and engages in a smooth, linear fashion, and you have a real winner.
Audio 5/10
It has a Pioneer 6-CD changer that pumps out 160 watts! Remember CDs? They were those shiny round things that had music on them. It also sounds like that Aiwa boombox you got for Christmas when you were 12. Moving on...
Toys 2/10
Besides the car itself, it has none. Navigation? Like with a map? Also, why would you want blue teeth?
Value 10/10
You can't get this level of "essence of car" for the money, and you can't get this level of pracitcality and economy, either. The xB is the definition of bargain.
I love this thing. I love it deep down, in the way you love a childhood pet. Every way I feel in my heart that it's great, it truly is. Toyota made something truly, truly special with the xB. I can't recommend it enough.
Exterior: 8/10
Interior: 7/10
Acceleration: 4/10
Braking: 6/10
Ride: 6/10
Handling: 10/10
Gearbox 8/10
Audio 5/10
Toys 2/10
Value 10/10
Total: 66/100